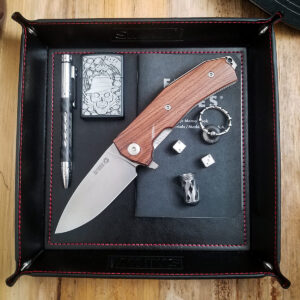 On the top ten list of knife manufacturer's LionSteel is at the top. The LionSteel KUR is no exception. We aren't alone in this opinion as the KUR was the 2016 BladeShow Overall Knife of the year. This thing is a fast flipper with a fantastic feel in the hand. It also has the sort of rock-solid lockup you wouldn't ordinarily expect from a linerlock. Let's look at it.
The KUR has a 3.43" Sleipner drop point blade with a beefy 0.18" blade thickness hardened to 60-62HrC. As we wrote about the LionSteel B40 Sleipner steel is, "…a high alloy non-stainless steel with a touch corrosion resistance (but will still require care), good toughness, and what appears to be good wear resistance." The composition of this steel, for those that might be interested, is 0.9 Carbon, 7.8 Chromium, 0.5 Manganese, 0.9 Silicon, 2.5 Molybdenum, and 0.5 Vanadium. The KUR is available with either a stonewashed plain or black PVD finish.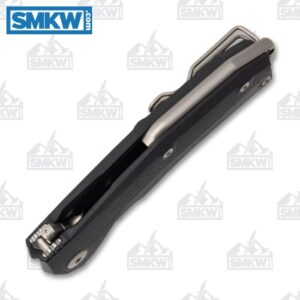 This flipper rides on an IKBS pivot and the flipping action is outstanding. It opens smoothly, easily, and with a seriously solid thwack.
Mounted on stainless steel liners, this linerlock is available with either G-10 or wood handle scales. They're 3D machined with grooves and all the edges are chopped for a fantastic, slip resistant grip that you've hopefully come to know and love from LionSteel. There's a cut out to easily index the linerlock, which is also machined. It has a lanyard hole which is integral to the backspacer as well a grooved cutout making attachments easy. It has a wire ambidextrous, tip-up pocket clip. It's 4.84" closed and weighs about 5.57 ounces.
LionSteel KUR Details
Sleipner, Stonewashed Finished or PVD Coated
3.43" Drop Point
0.18" Blade Thickness
60-62 HRC
Flipper with IKBS Ball Bearing Pivot
Linerlock
G-10 or Wood Handle Scales
Stainless Steel Liners
Ambidextrous, Tip-Up Pocket Clip
Lanyard Hole
5.257 Ounces
4.84" Closed
8.27" Overall
Made in Maniago, Italy
The LionSteel KUR is an award-winning knife that absolutely lives up to hype. It's a fast flipper with a solid action and a great lockup. If you're interested in this knife, click any link in the article or simply click the button below.


All images courtesy of Smoky Mountain Knife Works – smkw.com.