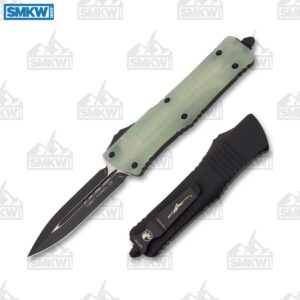 We're not going to lie. The jade green handle scale on Microtech's Combat Troodon D/E Signature Series knife hit us in a soft spot. The color and translucent nature of it reminded us of all the great glow-in-the-dark toys we dug out of the Cap'n Crunch cereal box as kids. And frankly, 9.25″ of dual-action, OTF auto glory from Microtech would be the greatest cereal box toy that the Cap'n never approved.
Fun Fact: A Troodon is a dinosaur with a bigger brain than most. It was fast and agile, and troodon literally means "wounding tooth" in Greek. Apparently Microtech's naming game is on point, because Troodon nails this knife perfectly.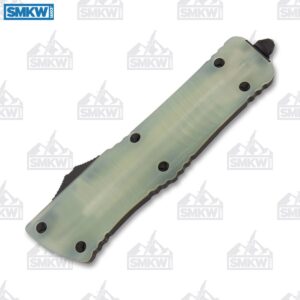 This Signature Series Combat Troodon is the largest of the Troodons. It's 5.7″ closed and 9.25″ overall. It's an out-the-front, dual-action auto with a 3.8″ CTS-204P dagger blade with a black finish. The thumb slide both opens and closes the knife automatically.
The front scale is made of jade green translucent G-10. While it's not perfectly clear, it has enough transparency to generally see through it. Other folks call this color "natural" G-10, and yes, you can dye it to almost whatever color you want. We like it a lot and think it's a great addition to the Microtech line. The back scale is black T6 aluminum with a tip-down pocket clip and Microtech's glass breaker.
Microtech Combat Troodon D/E Signature Series Details
3.8″ CTS-204P dagger blade with a black finish
Dual-Action OTF Auto with a thumb slide
Jade green translucent G-10 front scale
Black T6 aluminum back scale
Tip-down pocket clip
Glass Breaker
5.7″ Closed, 9.25″ Overall, and Weighs 5.3oz.
Made in the USA.
The Microtech Combat Troodon D/E Signature Series is a sight to behold. If you're interested in one of these well-made OTF's from Microtech or just want to know more about it, simply click any link in this article or the button below.