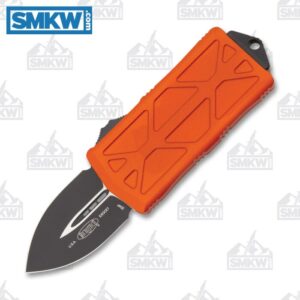 When the Microtech Exocet was released last year, they started with standard colors – black, blue, and red. It was wildly successful and now you can get them in just about any color, and with just about any finish you can imagine. These pocket friendly out-the-fronts really perk up just about any pocket dump.
The Exocet features anodized 6061-T6 Aluminum handles that's machined for a good grip and a great look. It's a California legal, doubled-edged, dual action OTF dagger with a blade length of 1.98" and a blade thickness of 0.06". It's available in all three of Microtech's finishes, including the ever-popular Apocalyptic finish.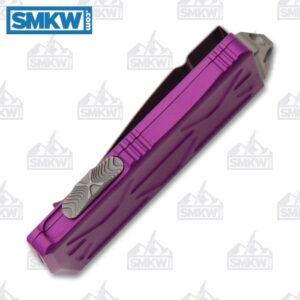 Let's talk about steel for just a quick moment. Microtech does a very interesting and clever thing. They simply announce the steels they're using for that year, and any model could be released at any time in any one of those steels. This year, the steels are CTS-204P, XHP, Bohler M390, and Elmax. They're all high-end, super premium steels and you really can't go wrong with any of them.
It has a wide, ambidextrous tip-down pocket clip that doubles as a money clip and the fit is snug enough to be secure without being difficult. The handle thickness is only 0.35" so it's incredibly sleek and slim. With a closed length of 3.875" and weighing a mere 2.75 ounces it practically disappears in your pocket. It's currently available in nine different colors and with a variety of finishes with more being added almost daily.
Click any thumbnail in the following gallery to launch a slideshow of larger images:
Microtech Exocet Details
CTS 204P, Carpenter XHP, Bohler M390, or Bohler Elmax
1.98" Dagger Blade, Double Edged
0.06" Blade Thickness
Flat Grind
Dual Action OTF
Thumb Slide
Aluminum Handles
0.35" Handle Thickness
Tip-Down Pocket/Money Clip
Lanyard Hole
3 Ounces
3.62" Closed
5.6" Overall
Made in the USA
The Microtech Exocet now comes in all the colors of the rainbow. It's a fantastic, wildly useful pocketknife. It not only makes a fantastic addition to any knife collection, it's a great way to add interest to your daily pocket dump. To get one, click any link in the article or simply click the button below.


All images courtesy of Smoky Mountain Knife Works – smkw.com.