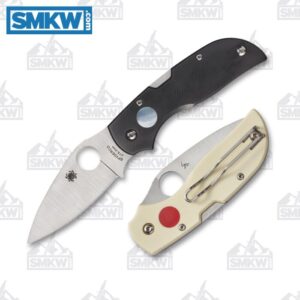 The Spyderco Chapparal Sun and Moon is clearly inspired by the Japanese Yin and Yang symbol. It also looks a bit like a modern magician's knife wherein one side was one handle, and the pile side was a different handle. Going even further back, it's also a bit like a Salesman's knife which would allow the rep to display two different models of a knife while only carrying only one knife in his knife roll. In modern times, it means we have a beautiful knife with a fantastic fit and finish that is picture perfect for almost any set up or scenario.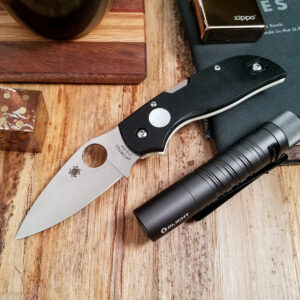 This knife has a black G-10 front handle with a beautiful mother-of-pearl insert. The back handle is white G-10 with a striking red G-10 insert. The fit and finish on this back lock is darned near flawless. It's not a big knife, it's right sized for daily carry whether you're in a suit and tie or your favorite blue jeans. It's lefty friendly with an ambidextrous tip-up pocket clip. It's 3.6" closed and weighs about 2.3 ounces.
It has a 2.8" satin finished CTS HXP leaf-shaped drop point blade with a full flat grind and a blade thickness of 0.077". It's a manual folder that opens with a Trademark Round Hole and rides on phosphorus bronze washers. There's some slight jimping along the thumb ramp and a generous forward choil.
Spyderco Chaparral Sun and Moon Details
CTS HXP, Satin Finish
2.8" Drop Point
0.077" Blade Thickness
Full Flat Grind
Manual Folder
Trademark Round Hole Opener
Back Lock
G-10 Handles
Mother-of-Pearl Insert on Front Handle
Ambidextrous Tip-Up Pocket Clip
2.3 Ounces
3.6" Closed
6.4" Overall
Made in Taiwan
The Spyderco Chapparal Sun and Moon makes a beautiful addition to any knife collection. To get it, click any link in the article or simply click the button below.


All images courtesy of Smoky Mountain Knife Works – smkw.com.