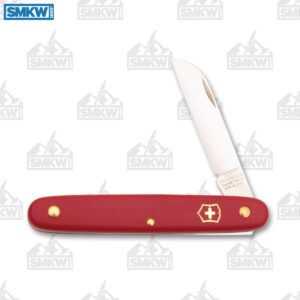 We often ooh and ah over the complexity and "gadgetiness" of new knives. There's nothing wrong with that, but there's also nothing wrong with a simple, straightforward design that works. That's exactly what you're going to get with the Victorinox Swiss Army Floral Knife. This one-bladed slipjoint with a classic Swiss Army red handle isn't fancy. It's just right.
The Swiss Army Floral Knife features a 2.5″ stainless steel Wharncliffe blade. It's short, strong, and straight, and it's perfectly designed for pruning and gardening.  To be honest, however, we're not getting in the garden any time soon (not that there's anything wrong with that), but we do understand the value of a Wharncliffe as a slim EDC push cutter. The flat belly of the blade will let you push through most any twine, rope or piece of tape that stands in your way.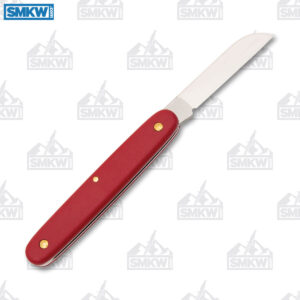 The Polyamide handles are traditional Swiss Army red, and the Floral Knife closes down to just 4″. At just 1.2oz this sleek slim knife hides effortlessly in almost any pocket. You can barely feel it, but it's always there when you need it.
This is a traditional slipjoint knife. It doesn't lock, and it doesn't need to. It's not meant to baton wood or thwart off your enemies. It's made for utility – to make cuts when you need to make them, and it's perfect for that.
Victorinox Swiss Army Floral Knife Details
2.5″ Stainless Steel Wharncliffe blade
Red Polyamide handles
Slipjoint
4″ Closed and 6.5″ Overall
1.2oz
Made in Switzerland
One of the most accommodating things about the Victorinox Swiss Army Floral Knife is its price tag. It's under $25 for a genuine Swiss Army knife. That's a steal. If you're interested in this knife and want to learn more, simply click any link in this article or the button below.