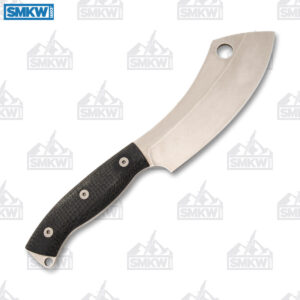 There's something about a good cleaver that speaks to your soul. No, don't pretend like you don't like them. We know you do, and the USA-made White River Bushcraft Camp Cleaver not only satisfies your cravings for all things cleaver, it fulfills your need to chop in the wild.
The White River Bushcraft Camp Cleaver is over 10″ of cleaver goodness. At .15″ thick, it feels like the beast that it is in your hand. It's enough knife that you better slip a leather strap through the lanyard hole in the exposed tang lest it get away from you.
The 5.5″ S35VN cleaver blade is bigger than the handles on most modern folders.  If you're not familiar with the performance of S35VN, get this. Once you get it sharp, it stays sharp – for a good long while. And that means that with its heft, this cleaver will go through just about whatever you want it to.  Oh, and the stonewash finish makes it look great too.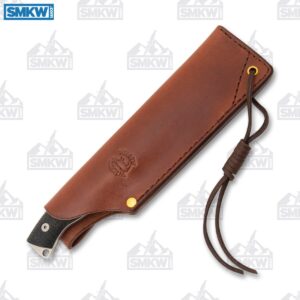 The contoured back burlap Micarta handles not only feel good in hand, they look the part of a camp cleaver. In fact, they're going to look more and more rugged the more you use this knife. Don't worry though. They're secured with triple screws and can be removed to get that deep cleaning they will probably need after you've smashed everything at camp.
At 9.3oz, this knife is a beast. It comes with a traditional, genuine leather belt sheath and a leather lanyard, so you can strap that bad boy to your leg if it gets out of control.
White River Bushcraft Camp Cleaver Details
5.5″ S35VN Cleaver Blade with a Stonewash Finish
.15″ Thick Full Tang Fixed Blade
Triple Screwed Black Burlap Micarta Handles
Exposed tang with a Lanyard Hole
10.125″ Overall
Weighs 9.3oz.
Genuine Leather Belt Sheath
Made in the USA
We know you fantasize about building a fire in the woods and chopping that perfect cut of meat for dinner. The White River Bushcraft Camp Cleaver was made to fulfill that fantasy. If you want to know more about it or just want one of your own, you can click any link in this article or the button below.