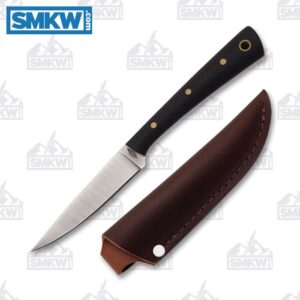 The guys at BHK (Battle Horse Knives) make some seriously nice knives and the BHK Birch River is no exception. You might remember the Tree Frog, also known as the only folder that's literally built for and endorsed by some notable bushcrafters. They're a small, family owned company who makes knives right here in the USA in small batches.
The BHK Birch River has a small-ish fixed blade designed for bird hunters and fishermen, but it's also perfect for daily carry. It has a 3.5" AEB-L drop point blade with a flat grind and a blade thickness of about 1/8". It's an excellent slicer with a nice point for piercing and is perfectly sized for small game.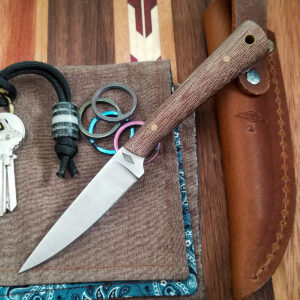 It has rounded Micarta handle scales on the full tang. The effective handle length is about 3.75" which means it's going to be long enough for a comfortable grip in most hands. However, if you need just a bit more grip room, it does have a generous lanyard hole. The fit and finish is just about flawless with nary an unnecessary rough edge to be found.
In addition to the intended hunting-fishing use, the overall unassuming look combined with the light weight also makes it a perfect fixed blade for daily carry. The knife weighs about 3 ounces. The knife and sheath combined weigh about 5 ounces. It comes with a leather sheath with a belt loop attachment and, if you're already an avid BKH fan, it fits with your already existing BHK Sheath #2.
BHK Birch River Details
AEB-L, Satin Finish
3.5" Drop Point
0.125" Blade Thickness
Flat Grind
Full Tang Fixe Blade
Micarta Handle Scales
Brass Rivets
Lanyard Tube
Leather Sheath
3oz, Knife Only Weight
5oz, Knife and Sheath Weight
6.875" Overall
Made in the USA
The BHK Birch River is an outstanding knife that's makes a great addition to any knife collection. If you're interested in this knife, click any link in the article or simply click the button below.


All images courtesy of Smoky Mountain Knife Works – smkw.com.