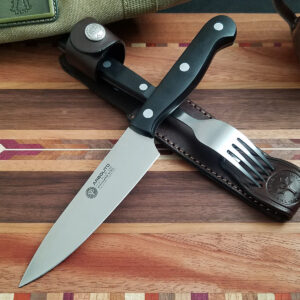 There's been a massive price drop on the Boker Arbolito Salida Grande Set, and it couldn't happen at a better time. You can pick up this full-sized steak knife and fork combo for just under $30. This is the perfect "annoy the in-laws" carry for Thanksgiving. "No, really! I'm not judging your steak knives, but I brought my own!" And frankly, this set makes a perfect gift for the knife lover in your life that has it all.
The knife has a 5" 440A drop point blade with Pom handle scales. It's a full tang steak knife with a blade thickness of about 0.07" and a flat grind. It makes an excellent slicer, as you'd expect from a steak knife. It comes with a a full-sized stainless-steel fork, also with Pom handles. Both the fork and the knife easily ride in the dual leather sheath that has a belt loop attachment. The overall length is about 9.375" and the full set weighs just under 7 ounces.
Boker Arbolito Salida Grande Set Details
440A Stainless Steel, Satin Finish
5" Drop Point
0.07" Blade Thickness
Full Tang
Stainless-Steel Fork
Pom Handle Scales
Leather Sheath with Belt Loop Attachment
6.85 Ounces, Full Set Carry Weight
9.375" Overall
When it was originally released, The Boker Arbolito Salida Grande Set had an MSRP of about $95 and a street price of just under $70. It's been discontinued and you can now by this fabulously fun, utilitarian set up for just under $30. It makes a great gift yourself or for the knife lover in your family who already has it all. We're definitely going to pick one up just so we can take it to Thanksgiving dinner to annoy the in-laws. Make sure you get yours before they're gone. To get this set, click any link in the article or simply click the button below.


All images courtesy of Smoky Mountain Knife Works – smkw.com.