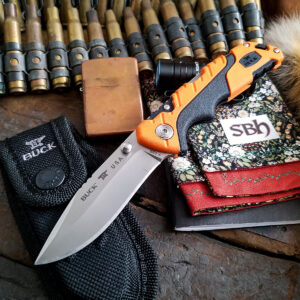 With the newly released Buck Pursuit Pro Series, Buck took what was an already good series of knives and made them better, and not just a little bit. They bumped the steel up to S35VN upgraded the steel, and the GFN and Versaflex handles are now high visibility orange.
Whether you want a fixed blade or a folder, with or without a gut hook, there's a knife for almost everyone in this series. There are six knives in this series. Each knife has a S35VN drop point blade with a satin finish. There's beautifully executed jimping along the spine for a secure grip when you choke up on the blade. Of course, they all have Buck's legendary Paul Bos heat treatment. As Buck tells us, "Buck Knives is a market leader in edge retention thanks to our steel selections and heat treat process pioneered by industry famous, Paul Bos, whose heat treating system has proven to be the best in the business. Each blade is put through a rigorous heat treat process and quality performance test. It is then tempered to the appropriate Rockwell Hardness through a heating, freezing, and reheating system. This gives you longer edge life, ease of resharpening, and a blade that will not fail you."
The GFN and Versaflex handle scales now come in high visibility orange and black. No matter which model suits your needs, each knife in this series is contoured for an incredibly comfortable and slip resistant grip, even while wearing gloves. Each knife also comes with a generous lanyard slot for added security as well as a lightweight nylon sheath with a belt loop attachment.
Buck Pursuit Pro Fixed Blades
Each fixed blade in this series is a full tang knife. Just like the original models, they're available in a large or a small model. Each fixed blade in this series comes with a lightweight nylon sheath with a belt loop attachment.
The 656 and the 657 are both large models with a blade length of 4.5" and a blade thickness of about 0.14". The difference between the two is that the 657 has a gut hook. They both have an overall length of 9.5" and weigh about 6.4 ounce.
The Pursuit Pro Small Fixed Blade (model 658) has a 3.75" drop point with a blade thickness of about 0.11". It's 8" overall and weighs about 3.3 ounces.
Buck Pursuit Pro Folders
The folding models (Buck 660, 661, and 659) are lockbacks that open with thumb studs. They each come with a nylon sheath with multiple carrying options. The large 660 and 659 are the larger models. They each have a 3.575" blade, and model 660 has a gut hook. They're 5" closed, 8.575" overall, and each model weighs about 3.6 ounces.
The Buck 661 is the smaller folder. It has a 3" S35VN drop point blade, and it's 4.32" closed, 7.75" overall, and weighs about 2.5 ounces.
Buck Pursuit Pro Details
CPM S35VN, Satin Finish
Drop Point or Gut Hook
Full Tang Fixed Blade or Lockback Folder with Ambidextrous Thumb Studs
High Visibility Orange and Black GFN and Versaflex Handles
Nylon Sheath with Belt Loop Attachment
Made in the USA
With the Buck Pursuit Pro series, Buck has upgraded and already outstanding line of knives. If you're interested in any of the knives in this series, simply click any link in the article or the button below to see them all.


All images courtesy of Smoky Mountain Knife Works – smkw.com.