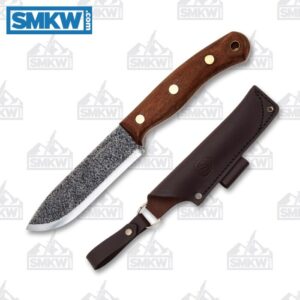 Designed by Walter A. Matthews, the Condor Bisonte is a hardworking, sturdy fixed blade. Condor tells us this knife was, "…inspired by the animals that live on the meadows and plains of North America and Europe, of different species but who share a common, strong look". At first glance this knife has a common look like others in Condors lineup. It is also a strong performer like many others in the Condor lineup. However, it is a different species of full-tang fixed blade with interesting design features that set it apart from the rest.
The Bisonte has a 4.75" 1095 carbon steel drop point blade with a Scandi grind and a blade thickness of 0.11". It has a Condor classic finish which Condor tells us is, "…hand hammering our Classic Series of axes and knives.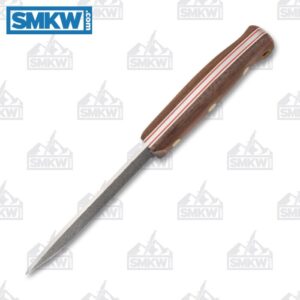 It gives a classic and enhanced look to an already well-made tool. Our employees use hand powered equipment to put this traditional pattern on, to give it a look as if it was hand forged over 200 years ago." The benefit of this finish is it helps to protect the blade from corrosion. It also helps hide any scratches and dings it will invariably accumulate over time.
It has rich walnut handle scales with red and white liners secured with brass rivets. They're contoured for comfort and have a handle thickness of just under an inch. Especially noteworthy is the level of attention that went into smaller, often unnoticed touches in the shape of the handle. This is something that often gets missed on more budget-friendly finds. However, the Bisonte nailed it down to the almost-but-not-quite pinch grip where the handle meets the blade.It has a brass lanyard tube for accessories. It's 9.5" overall, and the knife alone weighs about 6 ounces.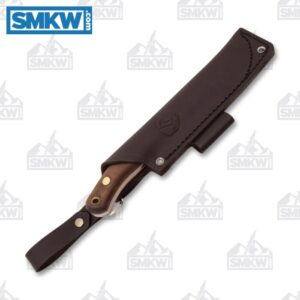 Before we gloss over the way these handles look, let's just talk about how much and why we love this handle. The liners give it a pop of color and a dash of modernity that blends beautifully with the classic overall look of the knife. We expect that as it patinas, the look will develop a richer and more unique finish that will be a sight to behold.
The Bisonte comes with a handcrafted, welted-leather sheath with a dangler attachment. It also has a loop for your ferro rod or fire steel. The knife has a snug fit and it rides fairly low in the sheath, which means it will remain secure. The overall weight of the knife and sheath combined is about 9.5 ounces.
Condor Bisonte Details
1095 Carbon Steel, Condor Classic Finish
4.75" Drop Point
0.11" Blade Thickness
Scandi Grind
Full Tang Fixed Blade
Walnut Handle Scales
0.95" Handle Thickness
Brass Rivets
Red and White Liners
Brass Lanyard Tube
Handcrafted Welted Leather Sheath
Dangler Attachment and Ferro Loop
6 Ounces, Knife Only Weight
9.5 Ounces, Knife and Sheath Weight
9.5" Overall
The Condor Bisonte is a Walter A. Matthews design. It's a full-tang fixed blade that's as beautiful as it is rugged and durable. You can get it for about $72. If you're interested in this knife, click any link in the article or simply click the button below.


All images courtesy of Smoky Mountain Knife Works – smkw.com.