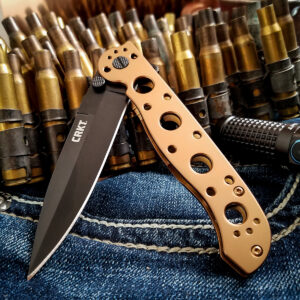 There's a new SMKW exclusive in town! The CRKT M16-03BK has coppery-bronze handles, and for $43, this knife is a solid, budget friendly workhorse. CRKT tells us that the M16 is still one of their top selling models. We can see why.
The M16-032BK is a manual flipper that has a smooth, controlled action with a washer pivot. has a 3.55" black oxide finished Sandvik 12C27 spear point blade. It has a blade thickness of 0.12" hardened to a 59-61 HRC. Because it combines a good hardness with a lower carbon content, this steel easily takes an extremely keen edge that is less prone to chipping. It's also fairly corrosion resistant, especially when you factor in the oxide finish. It has a swedge that runs in the forward three-quarters that adds flexibility to the tip of the blade.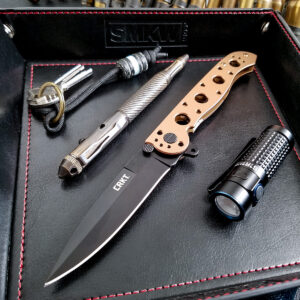 The coppery bronze colored stainless-steel handles have cut outs which not only reduce the overall weight of this knife, they also provide a substantial amount of slip resistance. A touch we especially appreciated was the matching hardware and screws combined with the black oxide treated, four-way pocket clip. We think it just gives the knife an overall cohesive look. It a handle thickness of 0.36" and a closed length of 4.66", this thing rides beautifully in your pocket.
CRKT M16-03BK Details
12C27, Black Oxide Finished
3.55" Spear Point
0.12" Blade Thickness
59-61HRC
Manual Flipper
Framelock
Coppery-Bronze Colored Stainless-Steel Handles
0.38" Handle Thickness
Four-Way Pocket Clip
3.8 Ounces
4.66" Closed
8.25" Overall
The CRKT M16-03BK is available exclusively at SMKW. This knife is a rock-solid performer that rides easy on the pocket and, for $43, it also won't leave a hole in your wallet. If you're interested in this knife, click any link in the article or simply click the button below.


All images courtesy of Smoky Mountain Knife Works – smkw.com.