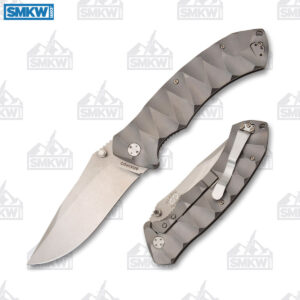 The Fox Knives Bravado offers premium style, materials and craftsmanship, and it's designed by Olamic Cutlery. Yep, that Olamic Cutlery – the ones that make all those incredible mid-tech knives in the $500 range. The Bravodo is Olamic style with a Fox price tag.
We love that Fox Knives farms out some of its higher end products. The Bravado just might be the best farm job yet. It's designed by Olamic Cutlery and is an incredible tactical EDC.
The Fox Knives Bravado features a 4.1″ Bohler N690 blade with a stonewash finish. It's .16″ thick. This tactical blade has discrete jimping in the thumb ramp, a gorgeous top swedge and a very subtle recurve. The blade itself falls somewhere between clip point and drop point. There's no harsh corner to denote a clip, but it's there nonetheless.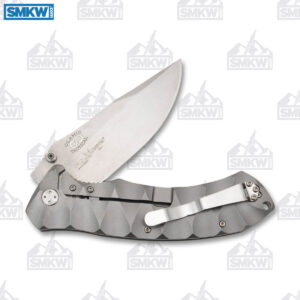 This is a manual thumb stud opener with ambidextrous thumb studs. A ball bearing pivot makes the opening action smooth as silk, even with the thumb studs.
The titanium handles on this framelock are milled scallop which not only provides grip, but also looks amazing. We love that the scallops even travel over the framelock, which isn't an easy task. The open frame handle design is built with standoffs, so you can see through back of the knife, and it includes an ambidextrous, tip-up pocket clip.
The Fox Bravado is 5.7″ closed and 9.8″ overall. It's definitely a full size tactical EDC that weighs in at 6.5oz. It comes with a nylon zipper pouch to protect your investment.
Fox Knives Bravado Details
4.1″ Bohler N690 Blade with a Stonewash Finish
Jimping and Slight Recurve
Manual Folder with Dual Thumb Studs
Ball Bearing Pivot
Milled Scallop Titanium Handles
Framelock
Ambidextrous Tip-up Pocket Clip
Lanyard Hole
5.7″ Closed
9.8″ Overall
6.5oz.
Designed by Olamic Cutlery
Made in Italy
If you're looking for Olamic style without the price tag, take a look at the Fox Knives Bravado. You can learn more about this knife or get one for yourself by clicking any link in this article or the button below.


All images courtesy of Smoky Mountain Knife Works – smkw.com.