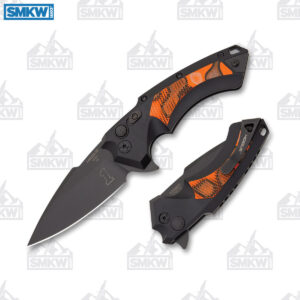 If you like USA-made knives with style and Harley-Davidson, look no further than the Hogue X5 3.5 Spear Point. Not only is this a great EDC manual flipper from Hogue, it's picked up a new look with its orange G-mascus inlay handles, blackout look and the Harley-Davidson 1 on the blade.
Let's tackle what stands out first. This Hogue X5 3.5 Spear Point features black 6061-T6 aluminum handles with bright orange G-mascus handle inlay (Harley colors). And because this knife is a button lock, the G-mascus inlay is on both handle scales. If you're not familiar with G-mascus, think of it as G-10 that has colored ripples and waves like Damascus steel.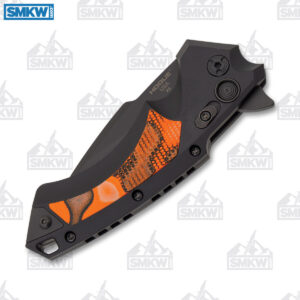 The handle is rounded out with a safety slide lock and an ambidextrous tip-up pocket clip. The back spacer also has an integrated lanyard hole.
This knife features a 3.5″ CPM-154 stainless steel, harpoon style spear point blade with a black Cerakote finish and H-D 1 etch. When you put that together with the black anodized aluminum handles, you've got a blacked out knife with a great pop of orange and Harley-Davidson appeal.
The Hogue X5 3.5 Spear Point is a manual flipper that's 4.75″ closed and 8.15″ overall. That makes it a full-size EDC with a stout blade and weighs in at 4.66oz.
Hogue X5 3.5 Spear Point Details
3.5″ CPM-154 Harpoon style Spear Point Blade
Black Cerakote Finish
Harley-Davidson 1 Etch
Manual Flipper
Black anodized 6061-T6 Aluminum Handles
Orange G-mascus Inlays
Button Lock
4.75 Closed
8.15″ Overall
Weighs 4.66oz
Made in the USA
This Hogue X5 3.5 Spear Point is an exceptional, stylish, USA-made flipper. If you're interested in this knife, simply click any link in this article or the button below.