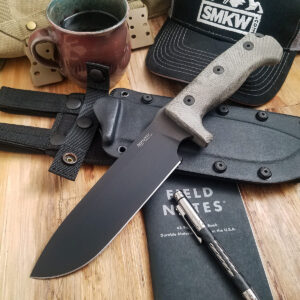 You might know LionSteel as the maker of some of the best modern folders and slipjoints on the market. Did you know they also make outstanding fixed blades? The LionSteel M7 is a gigantic beast of a fixed blade that meets the most exacting manufacturing standards for which LionSteel is known.
The M7 features a 7.09" Sleipner tool steel blade with a blade thickness of 0.22" and a flat grind. It's available with either a satin finish or with a black coating. Now, one of the interesting things they did with this was to crown the spine of the blade through the thumb ramp. Shortly thereafter they ground the tang flush with the handles. It's an added step in the production of this knife that results in a comfortable grip throughout the knife.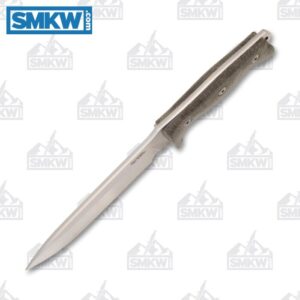 Likewise, the handle scales on this knife get the special LionSteel treatment. LionSteel tells us, "The SOLID® knife handle, obtained from a 4D machined Micarta block, makes the grip strong and safe, and guarantees the greatest strength at the same time."  Basically, they take a solid slab of micarta and mill it. Then they drop the blade into the handle and screw it in. The result is a knife with a ton of slip resistance, an incredibly comfortable grip, and very few hot spots.
This knife has an exposed striker pommel with a lanyard hole. It's 12.4" overall and weighs about 14.36 ounces. It comes with a MOLLE compatible cordura and Kydex sheath that's adjustable for left- or right-hand carry. It has a secondary safety strap for added security. It's completely non-fussy and easy to use without being dangerously loose.
LionSteel M7 Details
Sleipner, Satin Finished or Black Coated
7.09" Drop Point
0.22" Blade Thickness
Full Tang
Micarta Handles
Torx Screws
Exposed Striker Pommel with Lanyard Hole
MOLLE Compatible Cordura and Kydex Sheath
14.36 Ounces
12.4" Overall
Made in Maniago, Italy
As the largest fixed blade in the LionSteel lineup, the LionSteel M7 is a well-built, stout full tang fixed blade. It might not be the pocket friendly carry you've come to expect from LionSteel, but the quality of the knife and the build is everything that makes LionSteel one of the leaders amongst knife manufacturers. If you're interested in this knife, click any link in the article or simply click the button below.


All images courtesy of Smoky Mountain Knife Works – smkw.com.