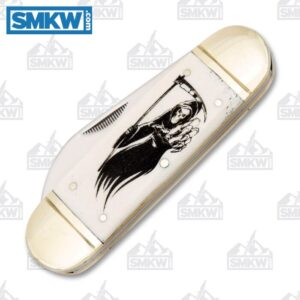 The knives in the Marble's Halloween Elephant Toe series aren't the cute pumpkins and spooky spiders we often see during the Halloween season. They've got a tiny bit of actual creep to them. There are three different themes, and you can pick one up for about $20. They're only going to be around for a limited time so make sure you get yours before they're gone.
There's an old scary story some of you might have heard about the Tailypo. It's about an animal that got his tail chopped off and eaten. He's very unhappy about it. It scared the gollygosh out of us when we were little. That story was the first thing we thought of when we saw these knives. The Editor definitely made a face while we snickered and muttered, "Ele-toe, ele-toe, who's got my ele-toe…"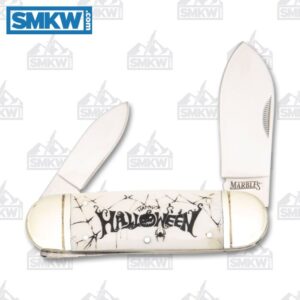 There are four knives in this series with three different laser etches. Each has white smooth bone handles with lined nickel silver bolsters. There's what they're calling the Big Grim Reaper. It has a horizontal etch on the presentation side of the knife with the Grim Reaper reaching out with one bony hand. The regular Grim Reaper is a vertical, ghostly-esque etch of the Grim Reaper. There's also a version with the text Happy Halloween all tangled up in spiderwebs. The fourth model has that same Happy Halloween etched on the presentation side, with the Big Grim Reaper etched on the pile (or back) side.
Whichever model suits your Halloween aesthetic best, each knife has mirror polished 440A blades with match strike pulls and half stops. The white smooth bone handles are mounted on brass liners and secured with brass pins. It's 3.875" closed and weighs about 6 ounces.
Marble's Halloween Elephant Toe Details
440A, Mirror Polished
2.625" Spear Point Main
2.125" Spear Point Secondary
Slipjoint
Half Stops
Match Strike Pulls
Laser Etched White Smooth Bone Handles
Brass Pins and Liners
Lined Nickel Silver Bolsters
6 Ounces
3.875" Closed
You can pick up any one of the knives in the Marble's Halloween Elephant Toe series for about $20. These will only be available for a limited time so make sure you get yours before they're gone. If you're interested in these knives, click any link in the article or simply click the button below.


All images courtesy of Smoky Mountain Knife Works – smkw.com.