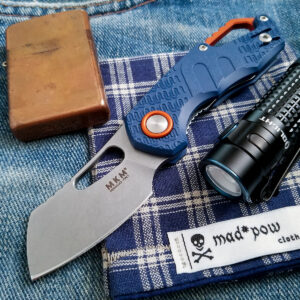 Designed by Jesper Voxnaes and made by Fox Knives, the MKM Isonzo is a great little pocketknife. It has a smooth action and a great fit and finish. It's available in about 15 models with various blade profiles and color choices. You can pick up any one of these bad boys for about $85. MKM tells us "…the surges, twists and counter-turns [with this knife] take their inspiration from the magnificent river that bursts through the crossing of the eastern Alps." When you say it like that, we can absolutely see it.
This is a funky little folder with an interesting look. It has a 1.93" Bohler N690 blade with a blade thickness of about an eighth inch that's been hardened a 58-60 HRC. Thus far, there are three different blade profiles available. It comes with a cleaver shape, a clip point, and a hawkbill with either a black coating or a stonewash finish.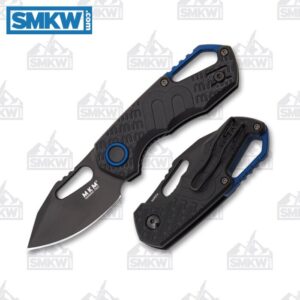 It has a generous forward finger choil, and there's jimping along the thumb ramp. Some models open with a thumb hole. Other models have both a thumb hole and a flipper. Whichever model you choose, the action is smooth and easy. It's got a great snap for such a diminutive folder.
Mounted on nested stainless-steel liners, the FRN handles are textured and contoured for a great grip. This linerlock is available in about four different colors – black, green, blue, and wolf grey. Each knife has contrasting accents at the pivot collar and the integral lanyard loop which gives this wicked looking knife an eye-catching pop of color. It has an ambidextrous, tip-up wire pocket clip. At 3.37" closed and weighing about 2.47 ounces, this knife practically disappears in your pocket.
MKM Isonzo Details
Bohler N690, Black Coated or Stonewash Finished
1.93" Clip Point, Cleaver, or Hawkbill
0.12" Blade Thickness
58-60HRC
Manual Flipper and/or Thumb Hole
Linerlock
FRN Handle Scales
Nested Stainless-Steel Liners
Ambidextrous, Tip-Up Pocket Clip
Integral Lanyard Loop
2.47 Ounces
3.37" Closed
5.70" Overall
Made in Maniago, Italy
The Vox designed MKM Isonzo is a fantastic small pocketknife with a ton of variety and a utility. It makes an outstanding addition to any pocketknife collection. To get this knife, click any link in the article or simply click the button below.


All images courtesy of Smoky Mountain Knife Works – smkw.com.