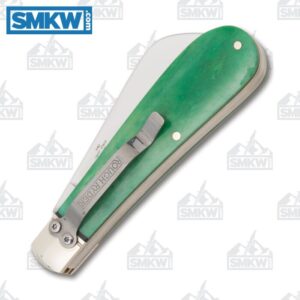 Love 'em or hate 'em, traditional knives with pocket clips have been among the most requested items of the last 15 years, and Rough Ryder has just done the deed. Rough Ryder introduced the first two patterns in their new Working Man Pocket Clip Series this week. They look, feel and function like the Rough Ryder traditionals you know and love, but they now have removeable pocket clips.
The Rough Ryder Working Man Pocket Clip Series features 440A stainless steel blades with half stops, match strike pulls, and a mirror polish finish. The handles are genuine green smooth bone with Rough Ryder's signature underliners (this time in black). The design is rounded out with nickel silver ringed bolsters and brass pins and liners, and the back side of each knife has a removeable stainless steel pocket clip.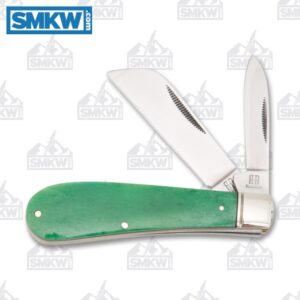 The pocket clip itself is removeable. If you don't like it, simply unscrew it from the bolster and pop it off. It's a decent size and has nice hold. It will easily keep the Trapper or Half Hawk right at the top of your pocket, which makes your traditional just a little more convenient to grab and use (no pocket digging).
The only drawback we can find with this series is that  clips are not ambidextrous. They're oriented for righties, but that's definitely not a deal breaker. These aren't flippers, and you're going to use two hands to open them anyway.
We expect that we'll see up to six more patterns emerge in this series over the next few months. Right now, it's only available in the standard Trapper pattern and the extremely popular Half Hawk pattern.
Rough Ryder Working Man Pocket Clip Series  Details
440A Stainless Steel Blades with a Mirror Polish
Half stops and Match Strike Pulls
Green Smooth Bone Handles
Black Underliners
Brass Pins and Liners
Nickel Silver Ringed Bolsters
Stainless Steel Removeable Pocket Clip
Magnetic Collector's Box
If you're interested in getting one of these new Rough Ryder Working Man Pocket Clip Series knives, they're only $15 at Smoky Mountain Knife Works. You can click on any link in this article or on the button below to find them.