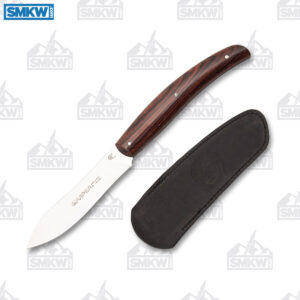 You know it, and I know it. Most restaurant knives suck, and nothing ruins a great steak more than having to gnaw through it with that ridiculously dull restaurant knife. Viper says stop doing that. Just throw your Viper Britola in its pouch. Put it in your pocket, and pop it out when your filet hits the table. It's a great little foldable steak knife that can go almost anywhere.
The Viper Britola is a folding steak knife that comes in three flavors of wood: Cocobolo, Zircote, and Amaranto (take your choice). Cocobolo is a rich brownish red. Zircote looks like walnut, and Amaranto has almost a bright red look to it. The handles all have stainless steel screws and liners.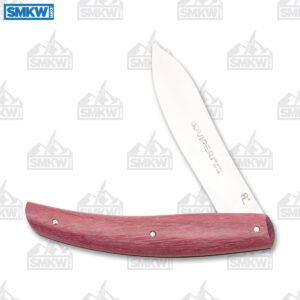 The 440A drop point blade on the Viper Britola swells almost like a Nessmuk blade. It's 3.875″ long and .07″ thick, and the fatter belly aids in slicing. Because it's 440A, the Britola resists rust, holds a nice edge, and is fairly easy to sharpen (even for beginners).
This is a non-locking folder. While it's not a traditional slip joint, it functions using what Viper calls its Action-Stopper mechanism, so it feels like the action you'd find on a traditional slip joint.
The Viper Britola is just under 5″ closed and 8.75″ overall. It weighs a miniscule 2.3oz and comes with leather slip (perfect for a knife you're going to stick in your food).
Viper Britola Details
Available in Cocobolo, Zirconte, and Amaranto Wood Handles
3.875″ 440A Drop Point/Nessmuk Blade
Traditional Folder with Action-Stopper Mechanism
Stainless Steel Screws and Liners
5″ Closed.
8.75″ Overall.
Includes Leather Slip.
Made in Italy.
The Viper Britola lets you bring a good steak knife with you to any restaurant, and prices start around $73. If you're interested in learning more about these portable steak knives from Viper, simply click any link in this article or the button below.