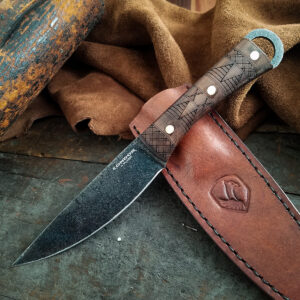 We can't decide if the inside Joe Flowers' head is scary or a fantasyland, but the fact is, it's where Joe dreams up incredibly fun and useful knives like the Condor Lost Roman. It's a 9.7″ full tang fixed blade that looks like you pulled it off a Roman soldier lost among the Celts, because it basically was. The knife is based on a Roman relic from the first century A.D that was found in the "Lost River" in London. Let's dig into it.
Treasures from nearly 2,000 years ago abound at what archeologists have dubbed "the Pompeii of the north." Found at a construction site in the heart of London's financial district, over 10,000 well-preserved artifacts have been unearthed.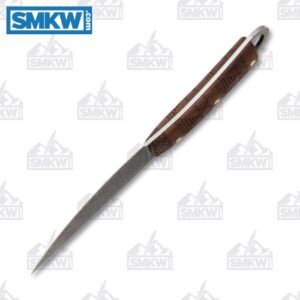 As reported by CBS News, "Sadie Watson, site director with the Museum of London Archaeology, said of the riverside mud conditions, 'It also means that rust doesn't get in, so all the metalwork finds are preserved as good as the day they were dropped, pretty much.'" One such item is the knife that inspired Joe Flowers to design the Condor Lost Roman Knife. Though he kept the heart of the design, he refined the design a bit, made it bit bigger and used updated materials.
This full tang fixed blade has a 4.9" 1075 carbon steel blade with full flat grind, a Condor Classic finish, and a blade thickness of 0.11".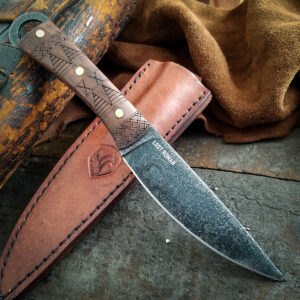 It has slight belly to give it a bit more slice and a fine point for piercing. Interesting to note is the lack of a sharpening choil or forward finger choil, which is very much like the original knife.  The walnut handle scales are faithful reproductions of the original, but with a bit more balance in the curves. They're slightly contoured for comfort and secured with brass pins. It has an oversized ring at the pommel. It comes with a handcrafted, welted leather sheath with a belt loop attachment. This knife is 9.5" overall and weighs about 4.59 ounces.
Condor Lost Roman Details
Designed by Joe Flowers
Full Tang Fixed Blade
4.9″ 1075 Carbon Steel Blade
.11″ Thick
Condor Classic Finish
Walnut Handles with Primitive Carving
Brass Pins
Exposed Tang with Pommel Ring
Handcrafted Welted Leather Sheath
9.7″ Overall
4.59oz. Knife Only
7.3oz. Knife and Sheath
The Condor Lost Roman is another Joe Flowers gem. It's about $73 and looks like a decorative knife that's built to be used. If you're interested in one of these, you can click on any link in this article or the button below.