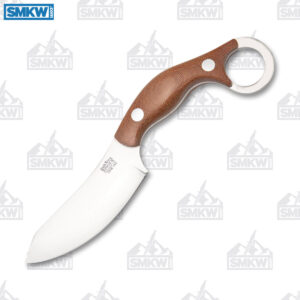 The Bark River Bush Bat JX4 was a collaborative design from outdoor experts Chris Tanner and Mike Stewart, and knife maker, Shane Wink. It's a full-service skinning knife that possessed the body of a karambit (finger loop and all).  It's probably one of the more unusual bushcraft/survival knives we've ever seen, but apparently it works.
The Bark River Bush Bat JX4 features a 3.4″ CPM-154 upswept sheepsfoot/skinner blade with a satin finish. It's 1/8″ thick and can perform most camp tasks. Designed to skin, it can also slice, feather, chop, split, and notch. The blade shape just lends itself to small scale camp/survival tasks.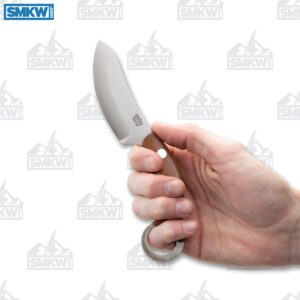 It's a 7.75″ full tang fixed blade with a finger loop. Turn it on its end, and it forms a nice loose 'S' rather than the ')' of most karambit knives. The finger loop lets you get a nice solid grip while skinning, and it can also provide a solid reverse grip if need be.
While it comes in many different flavors, the handles on the model we reviewed were natural canvas Micarta with nickel silver pins. The handles really do have a nice contoured shape that allow for a seriously comfortable grip.
It weighs in at 4.1oz and comes with a genuine leather belt sheath. The Bush Bat is made in the USA.
Bark River Bush Bat JX4
3.4″ CPM-154 Upswept Sheepsfoot/Skinner Blade
Satin Finish
1/8″ Thick.
Full Tang Fixed Blade
Natural Micarta Handles
Nickel Silver Pins
Finger Loop
Genuine Leather Sheath
7.75″ Overall
Made in the USA
The Bark River Bush Bat JX4 is certainly a very different looking bushcraft/survival knife, but according to all of our sources, it works really well. If you're interested in seeing some different version of this knife or getting one of your own, simply click any link in this article or the button below.