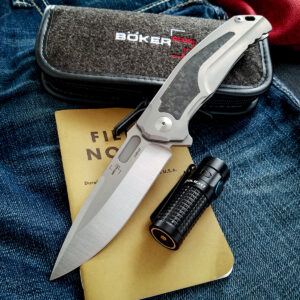 Every year Boker releases a Boker Damascus Knife of the Year and the Magnum Collection. They're revered among collectors worldwide. This year Boker released the first knife of a new collector's series, the Collection 2020, and it did not disappoint. It features the work of premiere knife designer, Lucas Burnley in the form of the Boker Collection 2020 Aphex.
First, this is truly a limited edition collectible. Only 500 Aphex knives were produced worldwide. This manual flipper was designed by Lucas Burnley and produced for Boker by Reate. Not only is this collectible exquisitely designed, its execution is beyond compare.
The Boker Collection 2020 Aphex features a .15″ thick, 3.9″ M390 drop point blade with a dual finish. The grind and swedge are vertical brushed satin and the flats are horizontal brushed satin. It also has a decorative ricasso.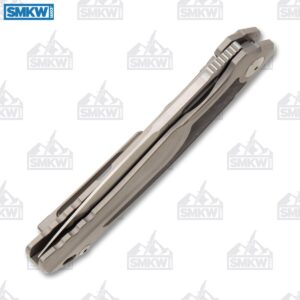 This manual flipper has a ceramic ball bearing pivot that lives up to the Reate manufacturing standards. The action is silky smooth and takes almost no effort. It snaps into lockup with authority.
It's a framelock with 3D milled titanium handles and what Boker calls "wild carbon fiber" inlays. There is jimping on a raised thumb rest in the blade, the titanium spacer and the butt of the titanium handle. It also features a removable titanium pocket clip.
At 9″ overall, this is a full size EDC. It closes down to 5.1″ and weighs in at a full 6.2oz. The price tag definitely reflects the scarcity and quality of this knife. It comes in at just under $412 retail.
Boker Collection 2020 Aphex
3.9″ M390 Drop Point with Dual Brushed Satin Finish
15″ Thick.
Decorative Ricasso
Manual Flipper with Ceramic Ball Bearings.
Framelock
3D Milled Titanium Handles
Wild Carbon Fiber Inlay
Titanium Tip-up Pocket Clip
5.1″ Closed
9″ Overall
Weighs 6.2oz.
Limited Edition of only 500 Pieces Worldwide
Manufactured by Reate
If you're interested in adding the Boker Collection 2020 Aphex to your collection, it's well worth the price tag. If you want more information, simply click any link in this article or the button below.