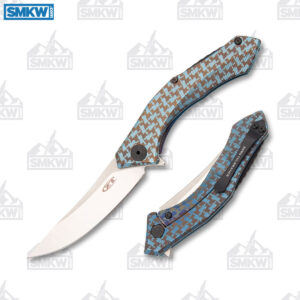 If you haven't been paying attention, SMKW opened up a Custom Shop on their web site in early 2020. They'e been taking stock items and doing incredible customizations to the handles and hardware. The new Bronze and Blue ZT 0460TI might top everything they've done so far.
The Sinkevich-designed ZT 0460TI may be one of the sleekest, sexiest knives Zero Tolerance has ever produced. It peaked interest and sold like hotcakes, because it didn't fit the standard ZT mold. The new SMKW Custom Shop version takes the titanium handled version and really pumped up the appeal. The handles have been anodized in a near hounds tooth pattern of blue and bronze.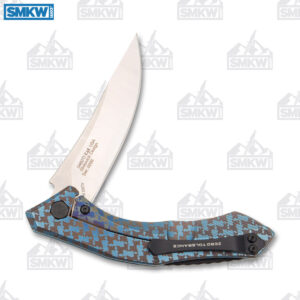 If you're not familiar with this knife in general, you've probably been living under a rock for the last couple of years, but let's hit 'em anyway.
This ZT 0460TI features a 3.25″ CPM-20CV stainless steel trailing point blade with a satin finish. It's a manual flipper with the KVT ball bearing pivot system. This framelock features blue and bronze anodized titanium handles with a removable but not reversible tip-up pocket clip.
The 0460 is a medium to small EDC that's slim and rides in the pocket easy. It's 4.4″ closed and a surprising 7.5″ overall. It weighs in at just 2.9oz.
SMKW Custom Shop Bronze and Blue ZT 0460TI Details
3.25″ CPM-20CV Trailing Point Blade
Satin Finish
Manual Flipper
KVT Ball Bearing Pivot
Framelock
Blue and Bronze Anodized Titanium Handles
Tip-up Pocket Clip
4.4″ Closed
7.5″ Overall
Weighs 2.9oz.
Made in the USA
SMKW Custom
This SMKW Custom Shop Bronze and Blue ZT 0460TI is definitely a pocket dump dream. If you're interested in one of these, we suggest you act fast, as SMKW doesn't make a ton of these customs. You can find one by clicking on any link in this article or the button below.