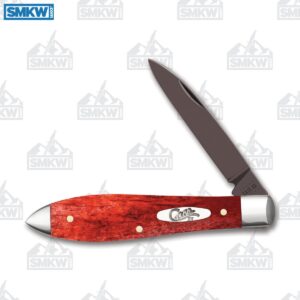 It's time for Christmas shopping, and Case has released their new Case Old Red Bone series just in time. The handles have a vintage look, but the blades got the future treatment. With five patterns currently available in this series, this might just be the gift for that Case lover on your list.
First and foremost, let's dive into what stands out about this series. The handles are genuine bone that's not been jigged in any way. They're smooth from stem to stern. They're dyed a deep red, almost barn color red, with color variations produced by the surface of the natural bone.
That means they get lighter and darker as the bone's imperfections accepts or rejects the dye. The end result is a handle that looks vintage or old. That's how you get Old Red Bone.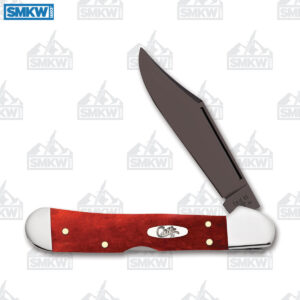 The blades, on the other hand, are anything but old looking. While they are Case's standard Tru-Sharp surgical steel, Case chose to give them a darkened PVD coating.  If you're not familiar with PVD, it' a coating that creates a vapor barrier between the outside elements and whatever it's applied to. In this case, it serves not only as part of the series styling, it protects the blades from corrosion and wear.
The Case Old Red Bone Series also features mirror-polished, nickel silver bolsters and the Case Oval Script shield. The pins and liners are brass, and this series does have the new 10-Dot tang stamp.
At the time we wrote this article, there were only five patterns available in this series, but we suspect there will be more. We've created a slide show gallery below for you to see the Mini-Copperlock, the Stockman, the Trapper, the Tear Drop, and the Trapper lock that make up this series.
Click any thumbnail below to launch a slide show of images.
Case Old Red Bone Series Details
Tru-Sharp Surgical Steel Blades with a Dark PVD Coating
Red Smooth Bone Handles
Nickel Silver Bolsters
Case Oval Script Shield
Brass Pins and Liners
Made in the USA
The Case Old Red Bone Series starts around $78 and is no more than $114. If you're interested in this series, click any link in this article or the button below.