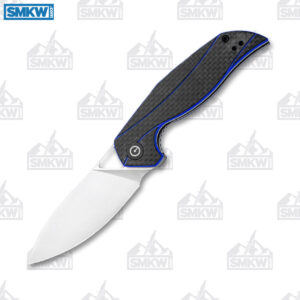 As far as Elijah Isham designs go, the CIVIVI Anthropos is on the tame side. Don't get me wrong. You can still see the Isham in the knife, but this medium to full size EDC is less fantasy and more business. It does, however, offer a very unique flipper configuration.
The CIVIVI Anthropos features 3.25″ D2 drop point blade with a satin finish, but don't let that 3.25″ length full you. This is a wide blade width – an inch and an eighth at its widest part. And, it's .12″ thick.
It's almost surprising that a blade this size fits in the handle. And while this is technically a drop point, the spine does sweep up a bit before dropping to a point.
It's a manual flipper with a triangular thumb hole, but the flipper itself is quite unique. Instead of the flipper tab that's set perpendicular to the handle, it actually sits parallel to the handle in the closed position and sweeps up toward the front of the knife. At first glance, it's actually hard to see the flipper in the closed position. It's very small, but the ball-bearing pivot really makes this knife easy to flip.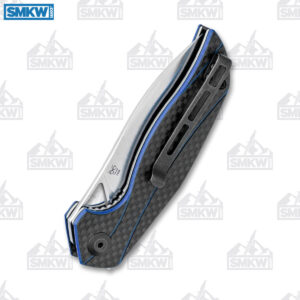 The CIVIVI Anthropos is a linerlock with carbon fiber over G-10 handles. The handle's shape is reminiscent of a traditional clasp knife. This article focuses on the blue version, but there is an orange version and an all black version as well. The handle also has an ambidextrous tip-up pocket clip an a lanyard hole.
This EDC closes down to 4.125″ and opens to a full 7.4″. With a carry weight of 3.3oz, the Anthropos is no slouch.
CIVIVI Anthropos Details
3.25″ D2 Drop Point Blade with a Satin Finish
.11″ Thick
Manual Flipper with a Thumb Hole
Linerlock
Carbon Fiber of G-10 Handles
Ambidextrous Tip-up Pocket Clip
Lanyard Hole
4.125″ Closed
7.4″ Overall
Weighs 3.3oz
If you're looking for a medium to full-size EDC with a unique look and a decent price tag, the CIVIVI Anthropos might be the knife for you. If you're interested in learning more about this knife and the other color offerings, simply click any link in this article or the button below.