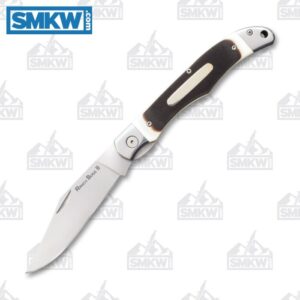 The Cold Steel Ranch Boss II is a fascinating knife you can pick up for about $30. Basically, it's Cold Steel's take on the Schrade Mustang 125OT which was produced between 1972 and 1997. It's an old pattern, but there's definitely more to it than meets the eye. Cold Steel tells us the Ranch Boss II was, "…[d]esigned from the ground up for usefulness, durability and effectiveness." Indeed, it has. There's a ton of history that predates the 125OT combined with a bunch of modern build techniques.
First, let's dig into the specs on this knife. It has a 4" SK5 carbon steel clip point blade with a blade thickness of 0.137". It comes razor sharp, straight out of the box. Since it's basically a carbon steel it will take a patina and it will be easy to sharpen. It has faux sawed bone handles and features modern screw construction. It's 5.25" closed, 9.25" overall, and weighs 5.2 ounces. It comes with a leather pouch sheath with a belt loop attachment.
This knife opens with a nail nick. Blade rap is prevented by a stop pin inside the frame, rather than relying on the more traditional and often fussy kick. This reduces production costs and streamlines the build process. It features screw construction, which is handy in case you ever need to adjust your knife.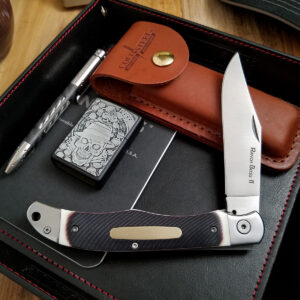 The stainless-steel front bolster has a cutout, so you don't have a protruding liner. Cold Steel says this knife, "…comes with a stiff back spring (like a slip joint pocketknife) and a stainless-steel liner lock, so your fingers will have extra protection." One of the most common things we've read about lock up on this knife is that it's "sticky". Well, yes and no. The lock functions exactly as designed. It's an old-style lock that's very similar to the locks found on the Schrade Mustang 125OT. With one giant difference we can credit to Michael Walker.
The bottom of the blade tang is beveled rather than flat. This means the lock on this knife – much like most modern knives and as opposed to the old models – is self-adjusting. This was merely part of the invention by Michael Walker in 1980. As the knife wears in, the spring will continue sliding across the tang whereas in days gone by the lock would simply not lock. It also gives more contact with the blade which provides a more reliable lock-up than the 1906 Watson & Chadwick patented design.
The Ranch Boss II does not have a ball detent – which was also what made Walker's Linerlock so incredibly revolutionary. Instead, it has a strong backspring, which keeps your knife closed. Additionally, the liner adds a bit of friction to the opening/closing action. It not only requires more effort to use, but it also protects your digits.
Cold Steel Ranch Boss II Details
SK5, Satin Finish
4" Clip Point
Faux Sawed Bone Handles
Linerlock
Stainless-Steel Backspacer
Screw Construction
Leather Pouch Sheath
Lanyard Hole
5.2 Ounces
5.25" Closed
9.25" Overall
You can pick up the Cold Steel Ranch Boss II for about $30. This is a modern take on an old knife, and it makes an outstanding addition to any pocketknife collection. If you're interested in this knife, click any link in the article or simply click the button below.


All images courtesy of Smoky Mountain Knife Works – smkw.com.