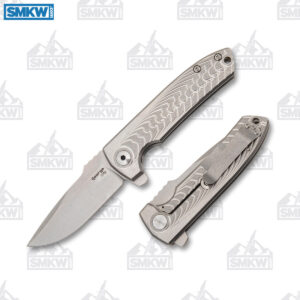 Les George is among the top knife designers in the world. His George Knives VECP V3 Morph is a demonstration of his expert understanding of knives and his execution of concept. It's a stout, full size mid-tech EDC that not only performs physically, it's also visually stunning.
I'm sure, like us, you're asking, "What does VECP stand for?" As Les George tells us, "VECP stands for Value Engineering Change Proposal and the basic concept is to take something and streamline it while retaining the utility and mission readiness. The George Knives VECP project goal was to take the design of the full Les George Customs Rockeye folder model and streamline the manufacturing to create a utilitarian version that was more obtainable to users than Les's full customs." They definitely succeeded.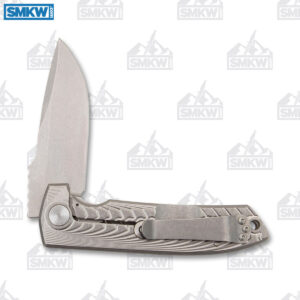 The George Knives VECP V3 is a full-size EDC modeled after the Rockeye. It features a 3.25″ CTS-204P stainless steel drop point blade with a stonewash finish. It's a full .14″ thick.  It's a manual flipper with phosphorous bronze washers, so the actions is sweet.
This framelock features titanium handle scales with the "Morph" milled pattern on both scales. It features a removable tip-up pocket clip  and a lanyard hole.
The USA-made VECP V3 is 4.75″ closed, 8.125″ overall and weighs in at 4.96oz. It's just a glorious version of a Les George custom that won't deplete your entire bank account.
George Knives VECP V3 Details
3.25″ CTS-204P Drop Point blade.
Stonewash finish.
.14″ Thick.
Manual Flipper.
Phosphorous Bronze Washers
Framelock
Milled Titanium Handles
Tip-up Pocket Clip
Lanyard Hole
4.75″ Closed
8.125″ Overall
Weighs 4.96oz.
Mid-tech
Made in the USA
The George Knives VECP V3 is an excellent mid-tech by Les George. This is a premium offering, so be ready to open that wallet if you want one. If you're interested and want to learn more, simply click any link in this article or the button below. It'll get you to three different versions of this knife, including the Morph we've described here.