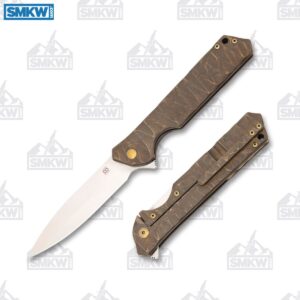 If you've not had the opportunity to play with an Olamic Cutlery knife, you're missing out. They're just above mid-tech and right below custom made knives, and they're sweet sharp and pointy goodness. Take the Olamic Rainmaker for instance. It's sleek, sexy, and the action is only topped by the execution of its many incredible finishes.
Though there are more than a half-dozen versions of the Rainmaker available, we're going to concentrate specifically on the Olamic Rainmaker Bronze Seabed version. To us, it was among the most interesting and beautiful versions, and frankly, it is the epitome of what an Olamic knife is.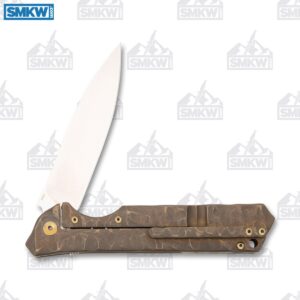 First, this Rainmaker features a 4″ M390 drop point blade with a satin finish. The grind is near perfect for a .14″ thick blade. It's a manual flipper with a caged ball bearing pivot system. The action is silky smooth and accurate with just the pull of your finger.
The handles on this framelock truly stand out from the the crowd. This version features bronze anodized titanium handles with a rocks sculpted seabed finish. It's exactly what it sounds like. It ripples and glimmers just like the sand at the bottom of the ocean. It's sculpted, so all of this is 3D.
The tip-up pocket clip is also titanium and matches the handle finish, and the hardware is bronze anodized as well. The design is rounded out with a high polish, rocks sculpted back spacer that matches the hardware and really pops against the handle.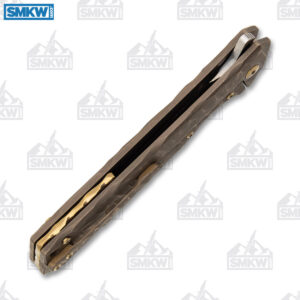 This USA-made flipper is 5.75″ closed and 9.75″ overall. That makes it a definite full size EDC. It weighs in at just 5.5oz, which is pretty good for a folder this size.
Olamic Cutlery Rainmaker Details
4″ M390 Drop Point with a Satin Finish
Manual Flipper with Caged Ball Bearing Pivot
Framelock
Bronze Anodized Titanium Handles with a Seabed Finish
Matching Titanium Tip-up Pocket Clip
Bronze Anodized Hardware and Polished Sculpted Back Spacer
5.75″ Closed
9.75″ Overall
5.53oz.
Made in the USA.
Yes, the Olamic Rainmaker is a premium offering from Olamic Cutlery, and we've described only one of the many finishes available. If you're interested in learning more about this knife or want to see the rest, simply click any link in this article or the button below.