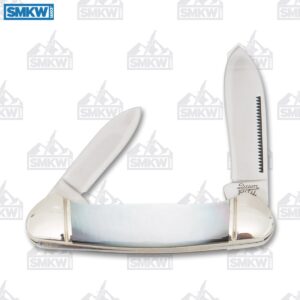 In case you hadn't noticed, Queen and Queen City knives are back on the market. Queen City released an abalone series earlier this year, and now they've released some gorgeous black pearl traditional slip joint patterns. And here's the kicker. The Queen City Black Pearl Series are available under $25 each.
All of the knives in the new Queen City Black Pearl series feature 440A stainless steel blades with a mirror polish finish. The blades have half stops and match strike pulls as well.  If you're not aware, half stops and match strike pulls are a historical mark of extra effort and higher quality.
You'll note that the patterns available in this series are all small patterns. That's because the handles are genuine black pearl. The bolsters on this series are high-polish, ringed nickel silver, and the liners are brass. There are no visible pins on the handles.
The Queen City Black Pearl Series is currently available in four patterns, including the peanut, the cub lockback, the small toothpick, and the mini canoe. At the time of publication, it was unknown whether more patterns would become available in this series.
Click any thumbnail below to launch a slide show of images.
Queen City Black Pearl Series Details
440A Stainless Steel Blades with Half Stops and Match Strike Pulls
Genuine Black Pearl Handles
Nickel Silver Ringed Bolsters
Brass liners
Collectors Magnetic Clasp Box
It's great to see Queen and Queen City back on the traditional market. The Queen City Black Pearl Series gives up hope that the names will make the comeback they deserve. If you're interested in this series, simply click any link in this article or the button below.