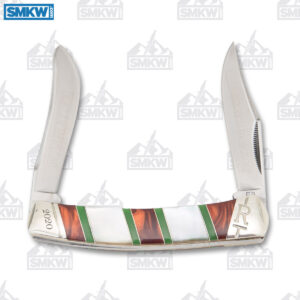 If you're a Rough Ryder fan, you know they've released a hugely popular lenticular Christmas knife for four or five years. But, if you're a Rough Ryder die-hard collector, then you know they used to do candy-stripe knives for Christmas. This year they did both, bringing back the old school candy stripe in the form of the Rough Ryder Caramel Candy Christmas Moose.
This Christmas collectible features synthetic white pearl, green pearl, and caramel candy pearl striped inlay separated by nickel silver spacers. The handles are truly gorgeous and are capped by Slant R nickel silver bolsters with a special 2020 laser engraving on one end.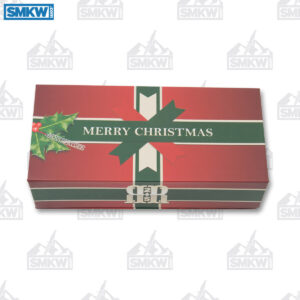 The blades are 440A stainless steel with half stops, match strike pulls, and frosted etches. The main blade reads Merry Christmas and the secondary blade features the Rough Ryder box logo.
The Rough Ryder Caramel Candy Christmas Moose comes in a magnetic clasp collector's box that doesn't even need to be wrapped. It looks like a gift already, so just throw it under the tree.
And here's the kicker. This Christmas collectible is only $20 at Smoky Mountain Knife Works.
Rough Ryder Caramel Candy Christmas Moose Details
440A Stainless Steel Blades
Half Stops and Match Strike Pulls
Frosted Blade Etch on both Blades
Synthetic Pearl Inlay handles
Nickel Silver Spacers
Slant R Bolsters with 2020 Laser Etch
4.375″ Closed
Collector's Magnetic Clasp Gift Box
If you've been paying attention the last few years, you know that the Rough Ryder Christmas knives sell out each year. We don't think this will be any different with the  Rough Ryder Caramel Candy Christmas Moose. If you're interested in one of these, simply click on any link in the article or the button below.