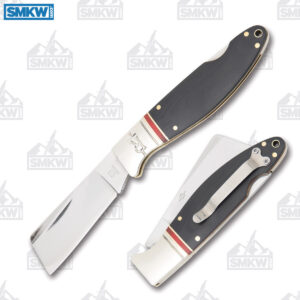 The Rough Ryder Highland series has been wildly successful. From the Highland Bowie to the Highland Spike and Lockback, Rough Ryder has captured the attention of knife buyers with these gorgeous knives, and they're clearly not done yet. Rough Ryder introduced the Rough Ryder Highland Pocket Cleaver this week to just as much fan fair as the rest.
This EDC cleaver features a 3.375″ 440A stainless steel cleaver blade with a mirror polish finish and a match strike pull. This lockback features black G-10 handles with nickel silver Slant R bolsters and brass and red spacers, just like the rest of the knives in the Highland series. Unlike the Highland Lockback, the Highland Pocket Cleaver has a removable pocket clip.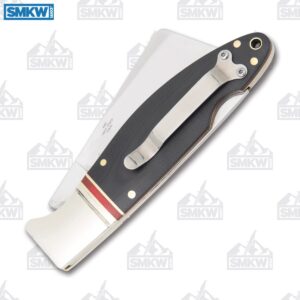 This cleaver appears to be built on the Rough Ryder Cowboy Cutter handle frame.  It's 5″ closed and 8.4″ overall with brass pins, liners, and lanyard tube. This is a beefy EDC knife with a beefy blade. It weighs in at a full 5.75oz.
Rough Ryder Highland Pocket Cleaver Details
3.375″ 440A Stainless Steel Cleaver Blade
Mirror Polish Finish
Match Strike Pull
Lockback
Black G-10 Handles
Brass and Red Spacers
Nickel Silver Slant R Bolsters
Bass Pins, Liners, and Lanyard Tube
5″ Closed
8.4″ Overall
The new Rough Ryder Highland Pocket Cleaver does the popular series proud. It's a beefy EDC with a strong lockup and a great price. It's only $16.99 at SMKW, which is a steal. If you're interested in getting one of these, simply click any link in this article or the button below.