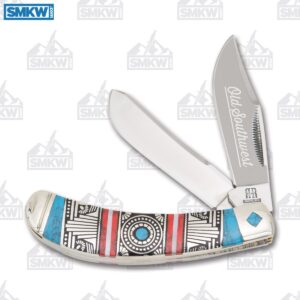 The Rough Ryder Old Southwest Series has been one of the most anticipated series in Rough Ryder history. It's been four years in the making, and it's finally hitting the retail floor. The unique Rough Ryder Bow Trapper pattern got the Old Southwest treatment, and it's the pinnacle of the series.
We've written about the Bow Trapper before, but let us refresh your memory. Imagine a standard 4-1/8″ Trapper pattern, now bend or bow the trapper into a "U" shape. Add a clip point and a spay blade like all trappers, but make them way more beefy, because the bow in the handle will take it. Now, realize that you've got much bigger blades and not taken up much more pocket space. That's the Bow Trapper in a nutshell.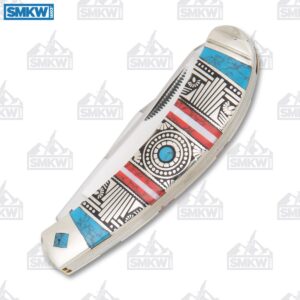 The Rough Ryder Old Southwest Series features handles that really steal the show. They're embossed nickel silver in a unique Southwestern style (almost Aztec) pattern. The recessed areas are blacked and the surfaces are polished. Now, sandwich genuine pearl inlay between red synthetic inlay and cap both ends with synthetic turquoise and nickel silver bolsters. If that wasn't enough, drop a diamond-shaped piece of synthetic turquoise into both sides of the lead bolster.
It's simply stunning.
The blades in this series are, of course, 440A stainless steel, and the main blade in each of the eight patterns features a frosted blade etch. And, in true Rough Ryder form, they all have match strike pulls and half stops.
The Bow Trapper is just one of eight patterns in this series, six of which are available right now. This series includes the Bow Trapper, the Sowbelly Stockman, the Double Lockback, the Small Toothpick, the Hawkbill, the Canoe, the Large Moose and the Large Trapper. The latter two are set to arrive soon.
Rough Ryder Old Southwest Bow Trapper Details
440A Stainless Steel Blades with Match Strike Pulls and Half Stops
Frosted Etch on Main Blade
Embossed Nickel Silver Handles with Genuine Pearl, Red Synthetic, and Synthetic Turquoise Inlay
Nickel Silver Bolsters with Synthetic Turquoise Inlay on the Lead Bolster (both sides)
Large Clip Point and Spay Blade
Collector's Magnetic Clasp Box
4-1/8″ Closed
The Rough Ryder Old Southwest Series is remarkable, and the Bow Trapper really stands out in that series. The kicker is that no knife in the series is more than $20. If you're interested in this series, simply click any link in this article or the button below.