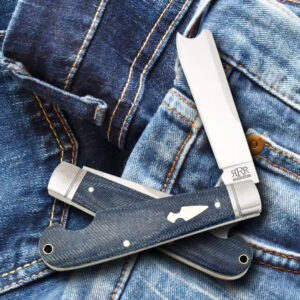 If you've been following Rough Ryder, you know they've been making quality traditional pocket knives for a while now. In fact, as far as the internet is concerned, Rough Ryder produces the most bang for your buck on the traditional slip joint knife market. Now Rough Ryder is reaching higher. Upping their game. They've just released the first three knives in a new line called Rough Ryder Reserve, and while these are still budget friendly, they're stellar premium quality slip joint knives.
A little history. Rough Ryder is brain child of Kevin Pipes, founder and CEO of Smoky Mountain Knife Works. It's what's known as a "house brand", and it's been in existence for more than 25 years.
Here's the thing. The brand has been constantly improving its line of traditional slip joint knives that entire time. The craftsmanship and materials speak for themselves, and the brand has built a great reputation, all while managing to keep the knives among the least expensive on the market.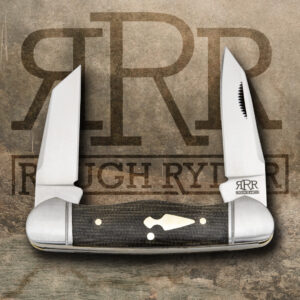 That's not going to change. The standard line will continue to improve and remain in the same price levels as always, but Rough Ryder is expanding upward into a slightly different market with the Rough Ryder Reserve line.
Rough Ryder Reserve offers upgraded steel, materials, styling, and workmanship that, according to almost all of the reviews we've watched online, stands up against almost any production maker in the world. Bar none.
We got our hands on the first three Rough Ryder Reserve knives and managed to get some insight from the folks behind Rough Ryder as well. Let's get into it.
---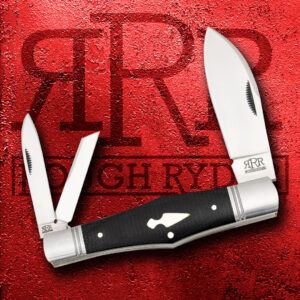 KNR: What inspires the knives in the Rough Ryder Reserve line?
RR: Most (but not all) of the patterns you're going to see in this line come from Kevin Pipes and Andy Armstrong digging through very old knife catalogs from IXL, Imperial, Schrade, Sheffield, etc. – some more than 100 years old. That's how you get something like the 003 Swell Center Whittler. Some of the patterns will be wholly new takes, modifications, or designs that have not – to our knowledge – been on the market before – best example in Round 1 is the Kayak and the Bar Back that we're still waiting on.
KNR: Can you give me an example from start to finish?
RR: Sure. The 001 Easy Open Razor base pattern came from and was inspired by an old catalog image, which I suspect is where most of the traditional makers start. Why reinvent the wheel, right?
Then as the design came to fruition, Kevin Pipes specifically asked for a "one-armed bandit" in what was a plain razor knife style. We've done them in Rough Ryder before, but it's been a good long while. The specific shape of this one, however, was a back and forth between Kevin and Andy getting exactly what they wanted out of it: a rounded top edge that works but doesn't stab you in your pocket.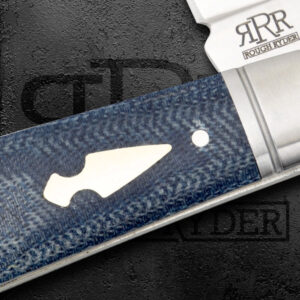 KNR: Why Reserve and why now?
RR: The answer is two-fold. First, it's honestly a study of what the market appreciates in a premium traditional pocket knife over the last few years. Modern materials like Micarta, varied and higher grade steels like D2 or even VG-10. Finishes that you might find on a very nice custom piece – brushed steel bolsters – brushed satin blades. Action that is far from where we were 10 years ago – heavy pull and loud walk and talk. Special features like "easy open" pulls, flush shields, etc – swapping out standard blades for new and different blade types.
We've kept an eye on all of these things that the market wants in a modern make of a premium slip joint pocket knife and that's exactly what we're drawing on to create the Reserve line. Premium quality and materials and the best price we can offer.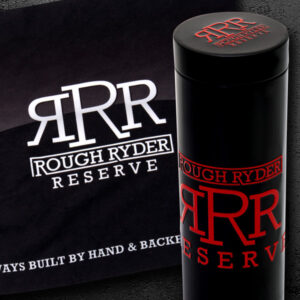 Second, we've been searching for a factory that could do this level of work for over 10 years. Put simply, we found it.
KNR: What can you expect from the Rough Ryder Reserve Line in the future?
RR: I can't be specific, but I can tell you that the line will be produced and released in rounds of four patterns at a time, and they won't be released until they meet the standards we've set for this line. For example, you'll note that the 004 Bar Back – the last in the first round of four – hasn't been released yet. That's because it's a brand new pattern invented by Andy Armstrong. We needed just a little more time to make sure it met the standard we want the Reserve line to meet.
I can also tell you that round two is currently in production and nearing completion, so you'll have the 005-008 pattern reveals soon. Beyond that, we've designed two more rounds at this point, and they will go into production soon.
KNR: What else can you tell us?
RR: While these knives are not limited editions, they are limited in a sense. A limited quantity of each pattern in a specific is produced, and when it's gone, it's gone. For example, the 002 Kayak is now available in natural tan Micarta and D2 steel. When that run sells out, you won't be able to get it from us again. Now, it can and most likely will appear in a different handle material or a different steel, but it won't be back in its current configuration. My advice: if you want it in natural tan Micarta and D2, you better get it before it's gone – and that goes for all of the patterns we release.
---
Rough Ryder Reserve 001 – Easy Open Razor
The Rough Ryder Reserve Easy Open Razor features a 3″ D2 tool steel one-armed razor blade with a brushed satin finish, deep swedging, and half stops. While the handle cutout makes this an easy two-hand opener, the one-armed razor blade is made to be opened one-handed. The handles are Denim Micarta with brushed stainless steel bolsters, brass liners, and nickel silver pins and the Triple-R Arrowhead shield. It's 4″ closed, 7″ full open, and has a brass lanyard tube. The carry weight is 2.65 ounces.
Rough Ryder Reserve 002 – Kayak
The Rough Ryder Reserve Kayak is a modern take on a traditional canoe pattern. Designed by Andy Armstrong, it features two D2 tool steel reverse tanto blades with a brushed satin finish, deep swedging, half stops and match strike pulls. This swell center canoe has natural tan canvas Micarta handles, brushed stainless steel bolsters, brass liners, and nickel silver pins and the Triple-R Arrowhead shield. At 3.625″ closed, it's the same size as most traditional canoe pattern knives and it weighs 3.5 ounces.
Rough Ryder Reserve 003 – Swell Center Whittler
The Rough Ryder Reserve Swell Center Whittler features three D2 tool steel blades all with a brushed satin finish, deep swedging, half stops and match strike pulls. The spear point main blade is 2.8″, and there are smaller secondary pen and coping blades. The handles are black canvas Micarta with brushed stainless steel bolsters, brass liners, and nickel silver pins and the Triple-R Arrowhead shield. This classic whittler pattern is 4.5″ closed, 7.3″ with the main blade open, and weighs 4.65 ounces.
Rough Ryder Reserve Packaging
All of the knives in the Reserve line come packed in a black tin tube. The knife itself is wrapped in branded wax paper and then wrapped in a Rough Ryder Reserve micro fiber cleaning cloth. It's a nice touch for sure.
We can't wait to see what comes out next in the Rough Ryder Reserve line. The current release ranges in price from just under $40 to about $60. If you're interested in learning more about the Rough Ryder Reserve line or getting one for yourself, simply click any link in this article or the button below.