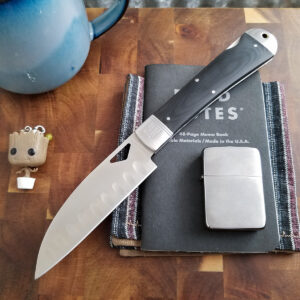 Carrying a Chef's knife on a backwoods adventure really isn't a great option, and most folding knives just don't meet your prep needs in the kitchen. The new Rough Ryder Sous Chef folds, locks, and is ready for food prep wherever you go. It's perfect for any adventure where food is involved.
The Rough Ryder Sous Chef is basically a pocket Santoku. The 4.3″ 440A blade is just .11″ thick with a Granton edge on both sides. It's definitely slice friendly and the dimples make sliced food slide from the blade easily. The blade also has a triangular thumb hole that allows you to open this knife one-handed.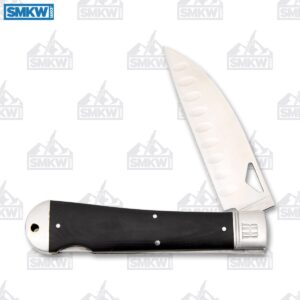 At 5.25″ closed, this knife is certainly above average for most pocket knives, but it halves the length of most chef's knives. It can ride in your pocket or your pack far more easily as well. The black G-10 handles are wear resistant and clean up easily. We loved the brushed stainless steel bolsters with the RR embellishment at one end and the lanyard hole at the other.
The Sous Chef is a lockback. That means that you can get down with this 9.5″ knife without worrying whether it's going to close on you.
It's hard to believe that Rough Ryder brings the Sous Chef to market at just under $17. The quality, fit and finish are excellent, and it feels pretty close to a standard Santoku knife in hand.
Rough Ryder Sous Chef Details
4.3″ 440A Stainless Steel Blade
Satin Finish and Granton Edge
.11″ Thick
Thumb Hole Opener
Lockback
Black G-10 Contoured Handles
Stainless Steel Bolsters with RR Embellishment
Layard Hole
5.25″ Closed
9.5″ Overall
The Rough Ryder Sous Chef is a welcome addition to a brand that seems to be hitting most every high point there is to offer. If you're interested in getting one these, simply click the button below or any link in this article.