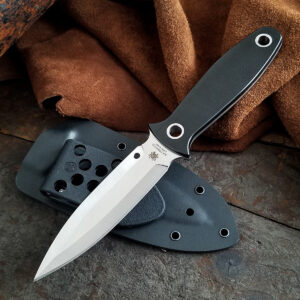 Why on earth would you want a small, lightweight, full tang fixed blade knife with thin handles? We guess you could conceal a big bushcrafting chopper, but you're going to be far from comfortable. Enter the Spyderco Nightstick, designed by Gayle Bradley. It's a modern take on a boot knife that follows the form of the Junction.
The Nightstick features a flat ground 4.14" CPM S30V dagger style blade with a blade thickness of 0.1". Now, this is a single edged knife even though it looks like a traditional dagger. Spyderco tells us it's to, "…make it more legally friendly, but retains the traditional symmetrical bevels of this no-nonsense breed." There's a Trademark Round Hole which not only identifies this knife as a Spyderco, but it also has a function. It lets you know which edge bites, and which does not. That's a handy feature on a symmetrical blade.
This full tang fixed blade has smoothly polished G-10 handle scales secured with rivets. It has an integral double finger guard to protect your digits. The handle 0.34" which means it's super slim making it an incredibly discreet carry. It comes with a Boltaron sheath with a versatile G-Clip for multiple mounting and secure carrying options. It's 8.37" overall and weighs just under 4 ounces.
Spyderco Nightstick Details
CPM S30V, Satin Finish
4.14" Dagger
Single Edge
Flat Ground
0.1" Blade Thickness
Full Tang Fixed Blade
Polished G-10 Handle Scales
Steel Rivets
Boltaron Sheath with G-Clip
3.8 Ounces
8.37" Overall
If you liked Junction, you'll love the Spyderco Nightstick. It's a slim, lightweight, and discreet carry. To get his knife, click any link in the article or simply click the button below.


All images courtesy of Smoky Mountain Knife Works – smkw.com.