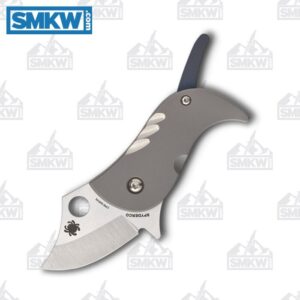 Whether it's the Kiwi, the Dodo, the Balance, or the Poliwog, nobody does funky folders quite like Spyderco. The latest edition in the funky fun folder lineup is the Spyderco Pochi. It's a dog. How stinking cool is that? Figural knives have been around for ages, but they've never been done quite like this. It's a small modern flipper with a quality build, outstanding materials, and a few hidden features that up the functionality game to the next level.
Like we said up there, when you open this knife up, and flick the blue anodized folding "tail" up, it looks like a little origami dog. Spyderco tells us Pochi basically translates to Spot. "Japanese knifemaker Kazuyuki Sakurai specializes in intricate, handcrafted folding knives, many of which are inspired by the shapes of animals. Some of his most popular designs are the dog-shaped knives." Now, in addition to being seriously stinking cute, the tail also acts as something of a lanyard. It gives you just a little bit more room on this tiny 2.54" knife.
The bead blasted titanium handles on this Reeve Integral Lock (R.I.L.) also have a bit of detail on the presentation side that gives the impression of fur, adding to the overall pooch impression. The hollow ground 1.56" satin finished CPM S45VN modified clip point blade makes up the Pochi's head. The flipper not only stands in as the dog's feet, but it also doubles as a finger guard which is pretty handy with a knife this small. There's a paw print cutout on blue-anodized tip up pocket clip. Finally, the oversized blue-anodized pivot collar does double duty as an overtravel stop. It has an overall length of just under 4", and it weighs a miniscule 1.7 ounces.
Spyderco Pochi Details
CPM S45VN, Satin Finish
1.56" Trailing Point
0.1" Blade Thickness
Hollow Grind
Manual Flipper and Trademark Round Hole
R.I.L. (Reeve Integral Lock)
Bead Blasted Titanium Handles
"Paw Print" Tip-Up Pocket Clip
1.7 Ounces
2.54" Closed
3.94" Overall
Made in Taiwan
We've been assured the Spyderco Pochi is coming soon so make sure you get yours before it's gone. It's a completely fun, fantastic, and pocket friendly knife that makes an outstanding addition to any pocketknife collection. If you're interested in this knife, click any link in the article or simply click the button below.


All images courtesy of Smoky Mountain Knife Works – smkw.com.