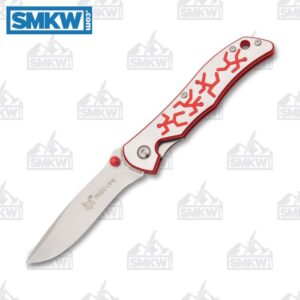 How many times have you seen tumbling stick figures on a knife? We'd guess it's not very often. Enter the Fox T1/2 Red. It's designed by legendry knifemaker Bob Terzuola. It's whimsical, colorful, fun, and highly functional. You can pick this quirky photogenic folder up for about $65.
This linerlock has brushed aluminum handles with red anodized interior accents and tumbling red stick figures on both the presentation and pocket clip sides. It's a manual folder with a single red thumb stud that is reversible. It has a generous lanyard hole for accessories and a tip-down pocket clip. This is a full-sized EDC that's 4.13" closed, 7.28" overall, and weighs a pocket friendly 2.47 ounces.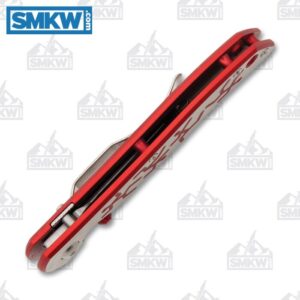 The T1/2 Red has a 3.15" bead blasted recurve blade with a blade thickness of 0.12" hardened to a 57-59 HRC. Although recurved blades are somewhat controversial amongst the sharpening crowd, there's no denying it does give you a longer slice. It also gives you a leading edge which puts a bit of power behind your cuts. Finally, there's jimping along the thumb ramp to add security while cutting.
Fox T1/2 Red Details
440C, Bead Blasted
3.15" Recurve
0.12" Blade Thickness
57-59 HRC
Manual Folder
Reversible Thumb Stud
Linerlock
Aluminum Handles, Red Anodized Accents
Tip-Down Pocket Clip
Lanyard Hole
2.47 Ounces
4.13" Closed
7.28" Overall
Made in Maniago, Italy
The Fox T1/2 Red is a colorful modern folder designed by Bob Terzuola. It makes a fantastically fun addition to any knife collection. You can pick one up for about $65. If you're interested in this knife, click any link in the article or simply click the button below.


All images courtesy of Smoky Mountain Knife Works – smkw.com.