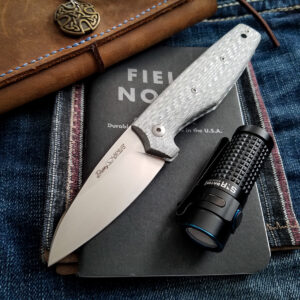 Which Viper Dan is the Dan for you? Number 1 or number 2? What's the difference, and just who exactly is Dan? Honestly, it doesn't much matter which you choose, they're both beautiful knives. Viper tells us Tommaso Rumici designed these non-locking modern gentleman folders for inoffensive, everyday carry. Why without a lock? So that more people could enjoy the utilitarian and practical hobby we all love. Finally, who is Dan? No one. It simply an acronym that stands for the purpose of this knife. "Daily Assorted Needs."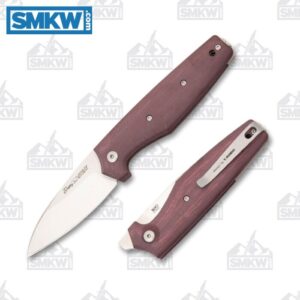 The Viper Dan 1 has a 2.875" satin finished Bohler N690 drop point blade with a crowned spine and a blade thickness of 0.12". The Dan 2 has the same blade material, length, and thickness. Rather than a drop point blade, it has a Wharncliffe. The Dan 1 is available in Silver Twill Micarta and Burgundy Canvas Micarta. The Dan 2 is available in Silver Twill Micarta and Green G-10.
No matter which blade profile you choose, 1 or 2, it's a nice knife. It falls in line somewhere between a slipjoint and a friction folder. Instead of a traditional lock, your fingers are protected by a Viper's Action Stopper. Viper tells us, this non-lock protects you by "opposing the right resistance to be safe in generic uses, such as multi-purpose Swiss, but definitely unsuitable for violent uses." All this means it's not a front flipper, and it's definitely not a fidget spinner. It harkens back to days of old when you had to actually pay attention to what you were doing with your knife. That's not necessarily a bad thing.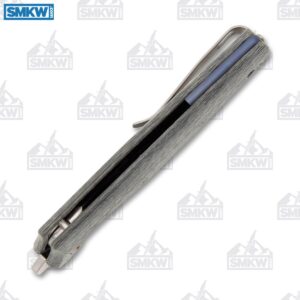 The micarta or G-10 handles are perfectly finished and beefier than you'd expect. The handle thickness is just over a half inch. They're smoothly contoured for an incredibly comfortable grip. They're open constructed with screws for easy maintenance. They have a rounded, beautifully anodized backspacer.
Each knife has an ambidextrous, tip-up pocket clip and lanyard hole. They're 4.31" closed and weigh about 3.3 ounces.
Viper Dan Details
Bohler N690, Satin Finished
2.875" Drop Point (1) or Wharncliffe (2)
Friction Folder with Front Flipper
Action Stopper
Micarta or G-10 Handles
Ambidextrous Tip-Up Pocket Clip
Lanyard Hole
4.31" Closed
7.19" Overall
Made in Maniago, Italy
The Viper Dan is a beautiful knife that not only meets your daily carry needs, but it also accomplishes all of Viper's goals in creating. It's a non-alarming gentleman's folder that can be carried just about anywhere. If you're interested in this knife, click any link in the article or simply click the button below.


All images courtesy of Smoky Mountain Knife Works – smkw.com.