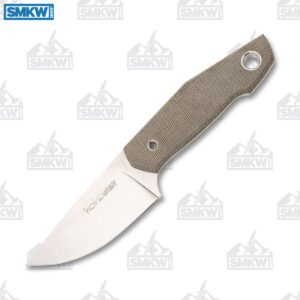 Sometimes when you see a picture of a knife, your brain just gets it all wrong. When we first saw the Viper Koi, it appeared to be a small neck knife. It's not. We also imagined that it was thick. It's not that either. Looks can be deceiving. The Viper Koi is about the same size as a full-size modern folder at 8″ overall, but it's super sleek and slim.
The Viper Koi features a 3.5″ Bohler M390 stainless steel drop point blade with a stonewash finish. It's a full .15″ thick. I think what threw us was the width of that drop point. It's wide, and that made us think this knife had to be short. It's definitely not.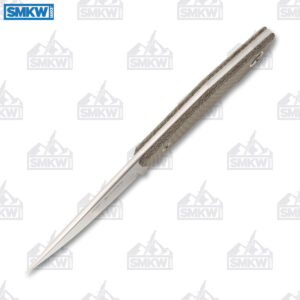 This full tang fixed blade is 7.9″ overall with canvas Micarta handles. As you can see in the images we've included with this article, the handles are slim, and that gives the Koi a very slim profile. Surprisingly, the slim profile doesn't hurt the ergonomics at all. It feels great in hand.
It comes with a Kydex sheath with a multi-mount clip with a rather ingenious locking mechanism. You can easily mount this knife vertical or scout on your hip, and we assume it'd be just as easy to mount to the strap of your pack as well.
Viper Koi Details
3.5″ Bohler M390 Stainless Steel Drop Point Blade
Stonewash Finish
Full Tang Construction
Crowned Spine
Canvas Micarta Handles
Hollow Rivet and Lanyard Hole
7.9″ Overall
3.8oz.
Kydex Multi-Mount Sheath
Made in Italy
Viper is making some outstanding knives, including this Viper Koi. We think this one is good size for fixed blade EDC (not too big – not too small). If you're interested in one of these, simply click any link in this article or the button below.