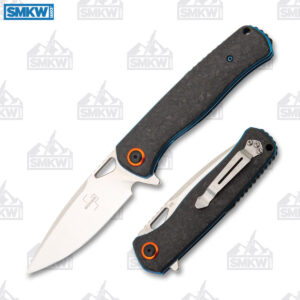 Sometimes you buy a knife because you need it for a purpose, but sometimes a knife just hits right. It catches your eye, and you want it more than you need it. And while we're certain it's useful and accomplishes most EDC tasks, the Boker Plus Nebula just screams for a ride in your pocket. It's a streamlined beauty of a modern flipper that should not be ignored.
The Boker Plus Nebula features a 3.62″ D2 tool steel spear point blade with a satin finish. It's .15″ thick, which makes its a solid blade for sure. While the preferred method of opening is the manual flipper, it also has a nice triangular thumb hole.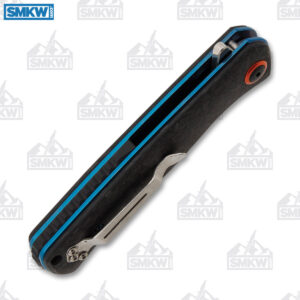 The handle itself is a thing of beauty. The scales are made of what Boker calls "Wild Carbon Fiber". You may recognize it as marbled carbon fiber, and if you're not familiar at all, have a look at the picture. Marbled carbon fiber looks like melted and swirled carbon fiber, and it's gorgeous.
Under those wild carbon fiber scales, you'll find blue anodized stainless steel liners on this liner lock. And, if that wasn't enough. There's an anodized orange pivot collar and a black G-10 spacer. The handle is rounded out by a removable tip-up, right side pocket clip and a lanyard hole.
The sleek Boker Plus Nebula is no slouch. It's a full 8.3″ fully open and closes down to 4.7″. This makes it a mid to full size EDC that weighs in at 5oz.
Boker Plus Nebula Details
3.62″ D2 Spear Point Blade
Satin Finish
.15″ Thick
Manual Flipper with a Thumb Hole
Liner Lock
Wild Carbon Fiber Scales
Blue Anodized Stainless Steel Liners
Orange Anodized Pivot Collar
Removable Tip-up Pocket Clip (Right Side)
Lanyard Hole
4.65″ Closed.
8.27″ Open
Weighs 5oz.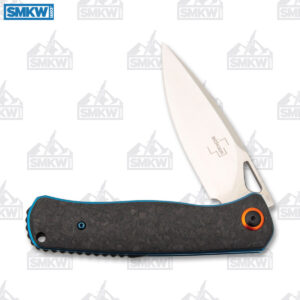 If you're looking for a stylish addition to your EDC, the Boker Plus Nebula might fill that need quite easily. It's easy on the eye and useful in the pocket. If you're interested in this knife, simply click any link in this article or the button below.


All images courtesy of Smoky Mountain Knife Works – smkw.com