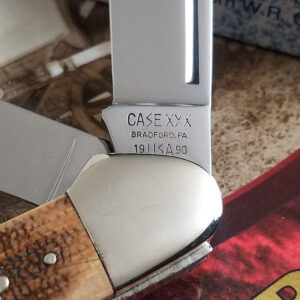 There is such a thing as a Case XXX. It's more correctly called a "Case Classic XXX". We'll admit it's not as cool as a pre-1980s Case XXX, but mostly that's because no living collector has ever seen a pre-1980s Case XXX. Perhaps the least common of all the knives produced in the Classic lineup is the Case Classic XXX 394 Gunboat canoe. Not only is it an incredibly rare knife, it's also a good story.
The More You Know
Every year or three in the knife collecting community, there's a discussion about a really old, factory made Case XXX. Once the subject comes up, invariably someone will say something to the effect of "…my granddad had one of those!" Folks who have been around a minute simply say, "…got pics?" There are never pics. That's because there's not one ounce of proof that such a thing exists. No living collector has ever seen a Case XXX that was not a Case Classic XXX. As discussion continues invariably an older collector will come along with pictures of a Case Classic XXX.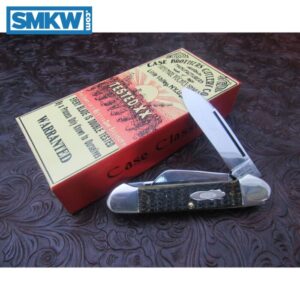 As luck would have it a Case Classic XXX 394 Gunboat fell into our hands at the same time we were reading the book, Case Classics: Best in the Long Haul by Jim Parker & Bill Penley (1995). We simply couldn't wait to dive into this fascinating story about some incredibly rare knives.
How the Case Triple X Came About
The very first factory made Case XXX was the result of a collaboration between legendary J. Bruce Voyles and Jim Parker in 1989. "In 1989, Bruce Voyles, president of the American Blade Collectors Association (ABCA) asked Jim Parker, who was at the time owner of W.R. Case & Sons, to make a knife with XXX in the tang instead of the standard XX trademark…. Voyles thought a special order of a triple X would be a novel way to dispel the myth and, at the same time, give the membership of ABCA an opportunity to own one of these rare Case Knives…. That is how the triple X idea was conceived."  We're not going to say they likely had a nice long chortle about the idea, but we can well imagine they did. Why? In no small part it's because they legend of the Case XXX predates the internet and, as long-time knife traders and collectors, they'd heard the legend more than once already.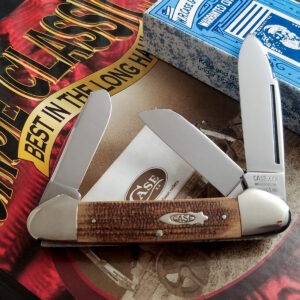 The First XXX
The first knife produced with the XXX tang stamp was the 62100 Saddlehorn with Roges Green Bone handles and a bomb shield. Voyles ordered 2500 and, when the presales didn't go quite as well as he'd hoped, backed his order down to 1100. He had 1000 of them etched with "1990 ABCA Limited Edition one of 2500" and sold them packed with a one blade Barlow. He left 100 of them unetched. Needless to say, an unetched 1990 62100 Case XXX is now incredibly rare and very valuable. For total production runs, minus a few one offs, prototypes, and test runs, "Among the Case Classics XXX's there are: 1000 Etched 62100 XXX, 100 Unetched 62100 XXX, 500 6394 XXX, 500 6488 XXX." That means there's only around 1000 total Case XXX 394 Gunboat canoes laying around the world. In the world of Case knives, which makes it a pretty darned rare edition.
Case 394 Big Gunboat Canoe
So, as we see, the Case Classic XXX is pretty rare and pretty darned cool. Likewise, the Case pattern 394 Gunboat Canoe pattern is a relatively rare pattern in and of itself. It's essentially a three-bladed canoe. The first production run of this pattern was by the Case Brothers in Little Valley, New York in or about 1896. They made that model up until about the 1940s when it was discontinued. Case reintroduced it in about 1980, and there have been a few produced here and there over the years. The 394 Big Gunboat was one of the three patterns made in the Case Classic XXX line.
Who Made Them?
Although there were a few Case XXX's made in the Case factory by Case, by and large most of the Case Classic XXX knives were made by Bluegrass Cutlery under contract from Case. Jim Parker explains in the book that Case had a significant backorder to fulfill and simply couldn't get to as many of these as they wanted to.
The best we can tell, and according to the book, each knife has CV steel which is as close to the old Case carbon steel as they could get it. Each knife has a bomb shield. The most common handle materials are Mastodon Bark Ivory and Rogers Green Bone. However, there are a few prototypes and "1 of 3" samples floating about in other handle materials like pearl, and abalone.
At about 4.25" closed, the 394 Big Gunboat Canoe is indeed a big three-bladed canoe. It has a solid, sturdy feel in hand. Each knife has a 3.125" spear point main blade, and 2.5" spey and sheepsfoot secondary blades. The main blade has a straight pull instead of a nail nick.
Case Classic XXX 394 Gunboat Canoe Details
Chrome Vanadium Steel, Mirror Polished
3.125" Spear Point Main Blade, Straight Pull
2.5" Spey and Sheepsfoot Secondary Blades, Nail Nick
Slipjoint
Mastadon Bark Ivory, Green Bone, Pearl Handles
Brass Pins and Liners
Nickel Silver Bolsters and Bomb Shield
5.25 Ounces
4.25" Closed
7.38" Overall
Made in the USA
As there's only about a thousand Case XXX 394 Gunboat knives produced, they're absolutely a collector's knife. They have a great story, involving some seriously legendary figures in the knife world. If your wallet can afford one and you're a knife collector, you should absolutely pick one of these beauties up once they hit your radar. If you're interested in these knives, click any link in the article or simply click the button below.


All images courtesy of Smoky Mountain Knife Works – smkw.com.