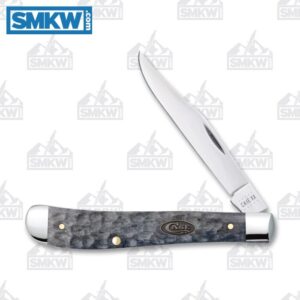 If you're looking for a gift for the knife lover in your life, you can't go wrong with the Case Gray Jigged Bone series. These USA-made knives have a clean, classic look you can pick up for a reasonable price.
Each knife in this series features impeccably mirror polished Tru-Sharp surgical steel blades gray peach seed jigged bone handles. They're accented by nickel silver bolsters and the Case XX Pewter shield. The overall look of the knives in this series is a clean, classic monochromatic look that is perfectly appropriate for just about any occasion.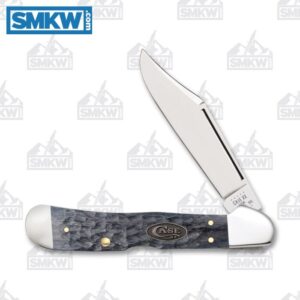 There are eight patterns in this series and that's where the real choice comes in as a gift. If you're buying one of these beauties as a gift, which one should you choose? Well, if it's a Case collector, you can't go wrong with a pocket hunter. It's Case's 2020 Vault release which instantly makes it a collectible knife. If you're buying for someone who is more of a knife user that a safe-queen collector, we're hardcore fans of the Slimline Trapper. It maximizes the cutting utility while still being an incredibly pocket friendly carry. If you've got a loved one that prefers a lock, the CopperLock is a perfect choice.
Click any thumbnail in the following gallery to launch a slideshow of larger images.
Case Gray Jigged Bone Details
Tru-Sharp Surgical Steel, Mirror Polished
Slipjoint or CopperLock
Gray Jigged Bone Handles
Brass Pins and Liners
Nickel Silver Bolsters
Case XX Pewter Shield
Made in the USA
You can pick up any one of the knives in the USA-made classic Case Gray Jigged Bone series for around $60 or less. If you're interested in these knives, click any link in the article or simply click the button below.


All images courtesy of Smoky Mountain Knife Works – smkw.com.