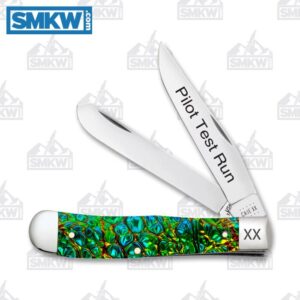 The new Case Pilot Test Run Dichrolam drops on Tuesday, December 22nd at noon and we can't wait to see it. What's exciting about it? Ordinarily the enthusiasm in snagging a Pilot Test Run (or PTR as it's sometimes called) is in the collector potential, as they're almost always a hard-to-find limited edition after even a few years. This time, we're quite excited for a whole other reason. The new Dichrolam Black Sea Burl handle material is just stinkin' cool, and we want more of them.
As we've written before, the reason Case does a Pilot Test Run is, "…to gauge the market's reaction to a new style before they make a full production run. This makes pilot test runs (which are usually marked) highly collectible, because they may or may not ever reach full production." Often, if the PTR is well received, then going forward you're going to see more than a few of them in various configurations. We hope this Pilot Test Run is wildly successful because we'd love nothing more than to see some knife handles with Dichrolam's new Chatoyant Carbon Fiber.
The first question you might ask is, "What is Dichrolam?" First things first, watch this video as Dichrolam inventor, artist, and patent holder John Blazy explains the how this material came about.
If you go onto the Dichrolam website you'll see this handle material is an opalescent, color shifting laminate that looks much like what you see with natural abalone, opals, and soap bubbles. However, it's also a strong, resilient material that's used in a wide variety of applications from architectural safety glass, guitars, gun grips, furniture, and of course knife scales.
Dichrolam tells us, "The Dichroic Optical Core within each lamination is unique in its ability to filter and reflect specific wavelengths of light…. The Burl textures line, for example, is comprised of over nine separate polymer layers laminated in three separate proprietary lamination steps — a process developed over the past seventeen years by its inventor, John Blazy." Despite its metallic look, these laminates contain, "…no metal in them at all. The reflectivity comes from the dichroic nature of the core film in which light wavelengths that are in phase with the tuned "stack" pass through and the wavelengths that are out of phase reflect back like polished metal."
Long story short, the Black Sea Burl Dichrolam handle material is seriously cool. It's kind of like abalone but at a fraction of the cost, and with a significantly reduced environmental impact.
Case chose the trapper pattern for the Pilot Test Run Dichrolam. It has Tru-Sharp Surgical Steel blades and a Pilot Test Run blade etch. The nickel silver bolsters are etched with the Case XX.
Case Pilot Test Run Dichrolam Details
Tru-Sharp Surgical Steel, Mirror Polished
3.125" Clip and Spey Blades
Pilot Test Run Blade Etch
Slipjoint
Black Sea Burl Dichrolam
Brass Pins and Liners
Engraved Nickel Silver Bolsters
4.125" Closed
7.25" Overall
Made in the USA
The Case Pilot Test Run Dichrolam trapper is a limited run of a beautiful new handle material. It drops on Tuesday, December 22nd at 12:00p.m. Eastern. These are in limited supply so make sure you get yours before they're gone. If you're interested in this knife, click any link in the article or simply click the button below.


All images courtesy of Smoky Mountain Knife Works – smkw.com.