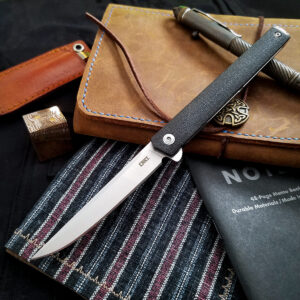 What does CRKT 2021 look like? Well, it looks stinkin' cool, that's what! As the CRKT 2021 lineup drops, we get a little more excited about each one. Let's look at just a few of their new offerings.
If you follow knife maker and designer Richard Rogers on Instagram, the new CRKT CEO Flipper comes as no surprise at all. We saw his custom piece a few months back and were instantly in love. It's everything that made the original CEO one of our favorite knives of 2019, but instead of flicking with a thumb stud, you can flip it with a flipper.
The 7097C model has a satin finished 3.35" AUS8 clip point blade that rides on an IKBS ball bearing pivot for a fast, smooth action. It's a liner lock with textured GRN handles and an ambidextrous, tip-up pocket clip. It's 4.35" closed, 7.69" overall, and weighs less than two onces.
CRKT CEO Flipper Details
AUS8, Satin Finish
3.35" Clip Point
0.09" Blade Thickness
Manual Flipper with IKBS Ball Bearings
Liner Lock
Glass-Reinforced Nylon Handle Scales
Ambidextrous Tip-Up Pocket Clip
1.9oz.
4.35"
7.69" Overall

Holy mackerels, there's a sea of Squids!
So, maybe it's not quite a sea. Maybe there's only two. Maybe we're being alliteratively hyperbolic. But there's something like an invasion of Squids this year, and we love to see it! Designed by the world famous and disgustingly talented Lucas Burnley, the Squid is definitely one of CRKT's most popular knives. This year, there's even a Holey Squid. It's just like the original Squid but with holes. We've decided we absolutely need one of these because, seriously, who doesn't want a Holey Squid?
The second 2021 CRKT new Assisted Squid is a new assisted opening version. Now, this thing looks super interesting and we can't wait to get it in hand. It's a flipper with thumb studs, and it has both an IKBS ball bearing pivot and it's assisted opening. According to the rumor mill, what truly sets this one apart from the rest is that the closing is easier. Rather than stopping about halfway, they say it slows a bit and then it easily slides closed.
CRKT Squid Assisted and Holey Squid Details
8Cr14MoV, Bead Blasted
2.37" Drop Point
0.11" Blade Thickness
Ambidextrous Thumb Studs (and Flipper on the Assisted Squid)
IKBS Ball Bearing Pivot System
Framelock
Stainless Steel Handles
Tip-Up Pocket Clip
Lanyard Hole
3.7oz.
3.59" Closed
5.94" Overall

…and plenty of Pilars!
Oh, but wait, there's more! There's practically a plethora of Pilars! No, seriously. This is wicked cool. They kept the general aesthetic of the original, and managed to almost completely reimagined it. Basically, they made it way more cooler. Vox designed CRKT Pilar III is bigger, sleeker, and available in two different steels. This thing is just about sexy as all get out.
The Pilar III has a 2.97" drop point blade with a beefy blade thickness of 0.15". It's going to be available with either 8Cr13MoV or D2 steel. This thumb hole opener has an IKBS ball bearing pivot system, as well as an extended forward finger choil. It's a framelock and the front handle is textured black G-10 and the back handle is stainless steel. It has a tip-up pocket clip and lanyard hole. It's 4.26" closed and weighs about 3.8 ounces.
Pilar III Details
8Cr13MoV or D2, Satin or Stonewash Finish
2.97" Drop Point
0.15" Blade Thickness
Manual Folder with Thumb Hole
IKBS Ball Bearing Pivot System
Framelock
Tip-Up Pocket Clip
Lanyard Hole
3.8oz.
4.26" Closed
7.19" Overall

These are just three of the new, exciting offerings in the new CRKT 2021 lineup. We can't wait to get more in hand. If you're interested in these knives, or to get a sneak peek at what's coming up in the not-too-distant future, click any link in the article or simply click the button below.


All images courtesy of Smoky Mountain Knife Works – smkw.com.