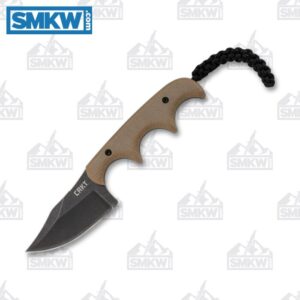 What's exciting about the SMKW exclusive CRKT D2 Minimalist Bowie? It has upgraded steel, micarta handles, and a budget friendly price point of only $30. Designed by Alan Folts, the Minimalist line of small full-tang fixed blades are incredibly popular and frankly handy knives that can be discreetly carried numerous ways.
This new exclusive version from Smoky Mountain Knife Works takes that wildly popular knife and upgrades it with D2 steel with either a black coating or a stonewash finish. It has a 2.13" clip point blade with a blade thickness of 0.11" which makes it just about everything you would need to handle just about any daily chore.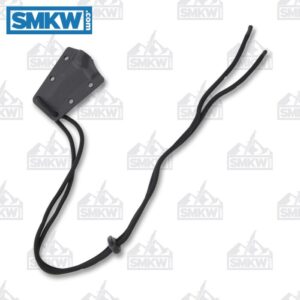 The original version had green and black polished resin infused fiber handles. The D2 version has tan micarta handles. This knife was designed for what is essentially a two-finger grip. However, it comes with a paracord lanyard which gives you an extra couple inches of finger room.
It also has a black glass-reinforced nylon (GRN) sheath with multiple mounting options. Not only does it have all the lashing points you could ever need, but it also has an easily adjustable mount clip making it fully ambidextrous and vertical or Scout carry compatible. The only tool you need to change it up is a Phillips head screwdriver. This knife has an overall length of 5.13" and the carry weight of both the knife and the sheath is 2.1oz.
SMKW Exclusive CRKT D2 Minimalist Bowie
D2, Black Coated or Stonewash Finish
2.13" Clip Point
0.11" Blade Thickness
Hollow Grind
Full Tang Fixed Blade
Tan Micarta Handle Scales
Black GRN Sheath with Belt Clip
1.6oz Knife Only Weight
2.1oz Knife and Sheath Weight
5.13" Overall
The new SMKW Exclusive CRKT D2 Minimalist Bowie is a great easily carried EDC knife. It has upgraded steel and micarta handles. You can pick one up for about $30. To get this knife, click any link in the article or simply click the button below.


All images courtesy of Smoky Mountain Knife Works – smkw.com.