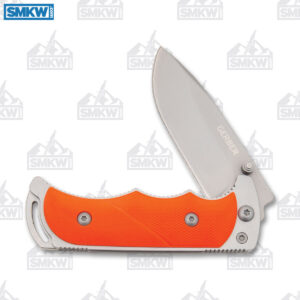 If you've been around the last few years, you know that the Gerber Freeman Guide is one of the most popular, affordable hunting fixed blades, and now Gerber is offering a folding model. The good news about the Gerber Freeman Guide Folder is that price has largely stayed the same, and the knife itself lost very little of its heft.
The Gerber Freeman Guide Folder features a 3.6″ 5Cr15MoV stainless steel drop point blade with a bead blasted finish. It's a .12″ thick manual opener with ambidextrous thumb studs, and its liner lock provides a nice solid lockup.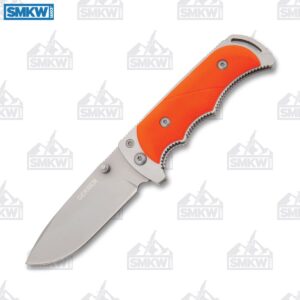 The handle is where the Freeman Guide folder looks and feels so much the same as the original fixed blade. It features stainless steel construction with hunter orange TacHide scales. The finger grooves are all jimped, and when you combine those with the TacHide scales, you really can get a superior grip.
The scales are attached with two screws, so you can get this thing apart for a good cleaning. It does feature the helpful lanyard slot just like the fixed blade version. It does not, however, have a pocket clip. Instead, it comes with a ballistic nylon belt sheath that can be mounted in standard and scout carry positions.
The Gerber Freeman Guide Folder closes down to a solid 4.5″ and opens up to a full 8.1″ overall. The weight is substantial, but not surprising at 6.9oz.
The Gerber Freeman Guide Folder Details
3.6″ 5Cr15MoV Stainless Steel Drop Point Blade
Bead Blasted Finish
.12″ Thick
Manual Opener
Ambidextrous Thumb Studs
Liner Lock
Stainless Steel Handles
Hunter Orange TacHide Scales
Lanyard Slot
Ballistic Nylon Sheath
4.5″ Closed
8.1″ Overall
Weighs 6.9oz.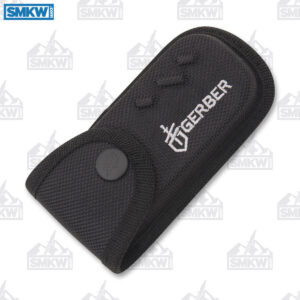 The Gerber Freeman Guide Folder is a tough hunting knife that mimics its fixed blade predecessor. We've seen it on sale for as little as $15.99 this Christmas, but it's regularly available for only $19.99. If you're interested in getting one of these, simply click any link in this article or the button below.