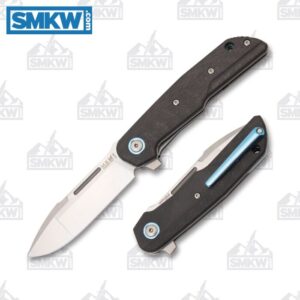 The MKM Terzuola Clap is clearly a gentleman's folder. What makes it tactical? Maybe that it's a Bob Terzuola design. After all, he's the one who literally coined the term "tactical folder." Maybe it's the compound grind? Whether it's tactical or not, this knife is definitively a smooth, well built folder with a ton of detail and a ton of options.
Designed by legendary knifemaker/designer Bob Terzuola, and made by LionSteel, the MKM Terzuola Clap features a 2.99" M390 drop point blade with a stout blade thickness 0.14". It has a compound grind with a thinner edge near the tip, and a beefier bottom edge. (Yeah, we know technically that's not the best terminology, we really just wanted to write it had a "beefy bottom." Here's hoping the Editor doesn't notice because we're still laughing.) The advantage of a compound grind is that it gives you two cutting options, conveniently packed into one knife blade. It also has a crowned spine with a bit of a harpoon shape, as well as a slight thumb ramp.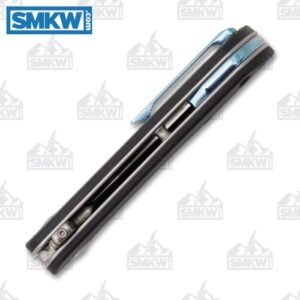 The blade rides on a ball bearing pivot so the action is incredibly smooth. It's designed as part of LionSteel's TRE system, so the flipper is removable. If you remove the flipper, it becomes a solid two-hand opener with a generous straight pull that, if you hold your mouth just right, can conceivably be used to flick the knife open. It's not easy an easy flicker without the flipper, but we guess that is kind of the point.
Mounted on stainless-steel liners, this liner lock comes with a ton of handle scale choices like marbled carbon fiber, G-10, and micarta. You can also choose a model with or without milled titanium bolsters. One of the two complaints we've seen about the Clap is that the bolsters don't smoothly transition to the handle scales like you'd see on traditional folders. It doesn't bother us a bit.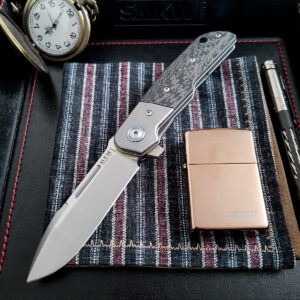 We've also seen a complaint about "hot spots". Now, not to jump up on a soapbox but what exactly are you doing with your gentleman's folder where hot spots are a thing? We can see it with a bushcrafter or even a hard use box cutter but a $200 gentleman's folder? We tested this "hot spot" problem on our morning doughnut package, our afternoon Dorito bag, and by opening the morning mail. We even tackled an ever-annoying clam pack with it. Our tender digits survived with nary a blister in sight.
The Clap is 4.25" closed and has a handle thickness of 0.58". The feeling in hand is both solid and sturdy. We love how the milling on the handle scales gives it a nice texture and gives it just a bit more grip. It has an anodized accent pivot collar, and anodized titanium tip-up pocket clip. It has a relatively solid carry weight of around 4 ounces, depending on which model you choose.
MKM Terzuola Clap Details
Bohler M390, Satin Finished
2.99" Drop Point
0.14" Blade Thickness
Compound Grind
Removable Flipper
Ball Bearing Pivot
Anodized Pivot Collar
Liner Lock
Stainless-Steel Liners
Micarta, Marbled Carbon Fiber, or G-10 Handle Scales
Titanium Bolsters (Select Models)
4 Ounces
4.25" Closed
7.25" Overall
Made in Maniago, Italy
The MKM Terzuola Clap is a beautiful knife with a solid feel in hand and a smooth action. It's available with tons of different handle scales and bunches of different options. If you're interested in these knives, click any link in the article or simply click the button below.


All images courtesy of Smoky Mountain Knife Works – smkw.com.