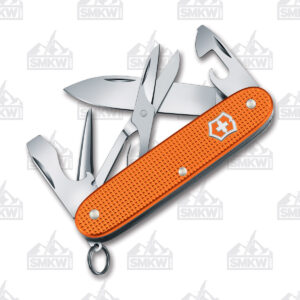 Victorinox announced their yearly Swiss Army Alox limited editions. They're doing the 2021 Tiger Orange Alox in the SAK Classic, Pioneer X, and (for the first time ever) the Hunter Pro patterns this year. These fantastic new collectable, pocket dump friendly knives should be hitting the shelves any day now so make sure you watch for them.
Instead, we're going to tell you what Victorinox told us. This year's color is "…a revitalizing tiger orange shade that symbolizes power, enthusiasm and excitement." They didn't explicitly state that the color has anything to do with football, and there's nothing in there that even implies you might want one of these if you follow any of the sports teams or universities with orange as part of their school colors. Honestly, we can't imagine who on earth might want a tiger orange Alox limited edition other than fans of UT, the other UT, Clemson, Auburn, Florida, the other Florida… Besides, we certainly would never write about one of the three most controversial topics in the entire world: Football. For us, football might as well be the third rail.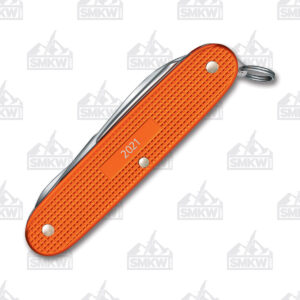 These limited-edition pocketknives and multitools are much like the Case Vault releases which makes them not only useful, useable tools but also perfect collector's pieces. The Victorinox Limited Edition Swiss Army Alox collections started in 2015. They each have the date stamped on the back. These patterns in these colors will only be released for that year. The previous releases were in navy blue, lavender purple, olive green, berry red, champagne gold, and aqua.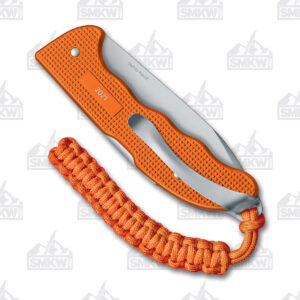 Now, if you pay attention to any of the pocket dumps across the internet, you'll see quite a few of the current year's production. But the further back in the limited edition Alox collections, the fewer you'll see. That's because there's a good chance that those are in someone's safe somewhere just waiting for a market increase. As a matter of fact, someone in our office is absolutely keeping their eyes open for a 2015 Navy and a 2016 Lavender Purple Classic.
Each knife in this series has Tiger Orange Alox handles with stainless-steel blades and tools. They each come beautifully packaged in a commemorative box. Let's take a closer look at each knife in this year's lineup.
2021 Tiger Orange Alox Limited Edition Classic Swiss Army Knife
This is the least expensive, and often most collected, model. It runs about $40 and is a multi-function pocketknife and multitool with a 1.5" pen blade, scissors, and a nail file a screwdriver tip. Not only is this the most budget friendly model, but it's also the easiest to carry. You can even toss it on your keyring without making your mechanic frown at you. It has a handle thickness of 0.2", it's 2.3" closed, and it weighs a mere 0.6 ounces.
2021 Tiger Orange Alox Limited Edition Pioneer X Swiss Army Knife
This new Alox Pioneer X pattern costs about $70. It has a 2.75" spear point blade, scissors, a reamer/punch, a can opener with a 7.5mm screwdriver tip and a wire stripper, as well as a bottle opener with a 3mm screwdriver tip. It has a handle thickness of about 0.6", it's 3.7" closed, and weighs about 3.3 ounces.
2021 Tiger Orange Alox Limited Edition Hunter Pro
This is the first time Victorinox has included the Hunter Pro in its Limited Edition Alox collection. It's a solid EDC with a ton of both versatility and utility. You can get this model for about $120. The Tiger Orange Alox Hunter Pro has all the SAK flair but it's more of a regular EDC knife. It's a lockback with a 4" mirror polished stainless-steel spear point blade, an ambidextrous tip-up pocket clip, and a lanyard. It has a handle thickness of 0.6", it's 5.4" closed, and it weighs about 6.6 ounces.
The Victorinox Swiss Army 2021 Tiger Orange Alox Limited Editions make a truly fantastic addition to any pocketknife or daily carry collection…. especially if you or your loved ones are sports fans. Word on the street is that these will be available to buy very soon. If you're interested in getting one, click any link in the article or simply click the button below. Then hit the "Notify Me" button and enter your email address to be notified when they're available.


All images courtesy of Smoky Mountain Knife Works – smkw.com.