The Boker Plus Rockhopper is a little knife with a ton of utility. Designed by Michael Reinhold, of the Spyderco Rhino fame, this pocketknife punches way outside its weight class. You can pick this budget friendly folder for about $45.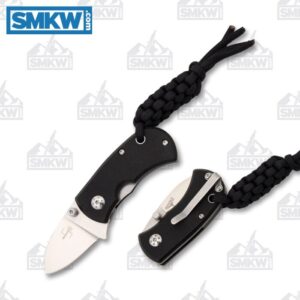 The Rockhopper has a 1.57" D2 leaf shaped blade with full flat grind and a blade thickness of 0.13". It's not going to chop down a tree any time soon, but it's just about perfect for any ordinary daily task. The thumbstud action on this knife is surprisingly snappy.
It's a linerlock with lightly textured, black G-10 handles on stainless-steel liners. There's enough room for a solid two-finger grip. The included paracord lanyard expands that grip out to at least a full three- to four-finger grip. The lock is easily indexed, and the lockup is solid. It has a right carry, tip-up pocket clip that is removable but not reversible. At 2.25" closed, and weighing a mere 2.15 ounces, this knife practically disappears in your pocket.
Boker Plus Rockhopper Details
D2, Satin Finish
1.57" Leaf Blade
0.13" Blade Thickness
Full-Flat Grind
Ambidextrous Thumb Studs
Linerlock
G-10 Handle Scales
2.15oz
2.25" Closed
4.09" Overall
The Boker Plus Rockhopper maximizes cutting performance while minimizing your pocket real estate. It makes a fantastic addition to any pocketknife collection, and you can pick one up for about $45. If you're interested in this knife, click any link in the article or simply click the button below.


All images courtesy of Smoky Mountain Knife Works – smkw.com.