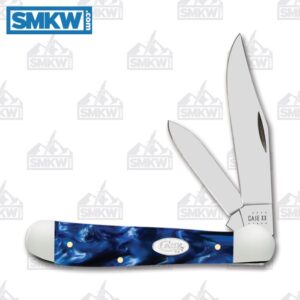 Every year Case releases one pattern from its vault. That pattern runs for one year before being returned to the vault. Last year, it was the Pocket Hunter. They've announced this year's  Case XX 2021 Vault release and it's the 49 Copperhead pattern. There's already been a fair amount of buzz and excitement over this pattern, and we think you're going to love it.
The 49 Copperhead is usually a two-bladed, four-inch jack knife. It's an old pattern that was first released by Case sometime before 1917 and it's been in sporadic rotation over the last century. Let's dig into it.
What We Know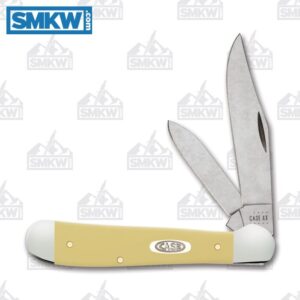 Traditionally, this pattern has a clip point main blade and a smaller secondary pen blade. We know this pattern is going to be available in five handle materials and a couple of different blade configurations. To date, they're all in Tru-Sharp surgical steel except for the Yellow Synthetic CV which has the traditional clip point main blade. Other current handle materials with that blade configuration include the Blue Pearl Kirinite and Patriotic Kirinite. There's also a Wharncliffe main blade with a smaller pen blade secondary configuration. So far, that's going to be available in the Caribbean Blue Sawcut Jigged Bone series, as well as Case's gorgeous natural abalone.
Rampant Speculation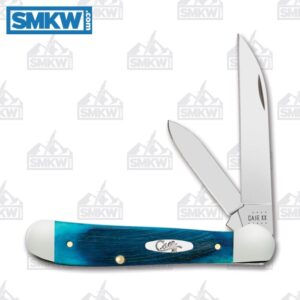 What might be in store? We don't know but, just like everyone, we love to speculate. Something only rarely seen with the 49 Copperhead pattern is a single bladed jack. According to what we've read, it was only rarely used even way back in the day. A single Wharncliffe would make a heck of a cool knife with some of the killer things Case is doing with its handle materials.
Speaking of handle materials, remember at the end of last year when we saw a couple of Case Pilot Test runs? In case you missed it, the earlier Pilot Test Run was the Richlite. The Dichrolam happened not too long ago.
Richlite
Richlite has been around for a pretty good bit. We think it's a rich, beautiful handle material with a fantastically warm feeling in hand. We'd love to see Case do more with it in some future releases. Maybe with some brighter and stacked colors? Oh, or how about a California clip with a vintage looking Richlite?
Dichrolam
As far as the Dichrolam? We're completely fascinated by that handle material. We'd absolutely love to see more of it, especially in this pattern and with the Wharncliffe main blade.
The year has just started, and with the 49 Copperhead as the Case XX 2021 Vault release, it's started with a heck of a fine knife. Let us know what you think would be an awesome handle material on this pattern by following us on Facebook, Instagram, or Twitter.
These haven't yet hit the shelves but they'll be arriving any day now. Remember, this pattern is only available through 2021, so if you're interested in any of these knives, click any link in the article or simply click the button below.


All images courtesy of Smoky Mountain Knife Works – smkw.com.