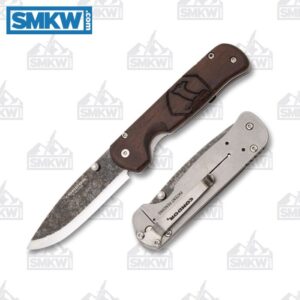 The Condor Walnut Krakatoa is a hard charging, bush crafting folder fit for fearsome situations. We've written at length and many times about our love for Joe Flowers' designs. We've also written about the outstanding lockup on the patent pending Condorlock. Well, we're going to do it again because the Condor Krakatoa now has a walnut handle. It's beautiful, and we want you to see it.
Let's start with the front handle scale on this knife. This latest addition is the walnut handled version of the Krakatoa a thick, walnut slab screwed into a stainless-steel frame. It's branded with the Condor logo and it looks just beautiful. There's a recessed cut-out to easily index the thumb studs for a smooth, controlled opening.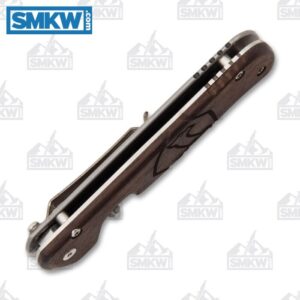 The back handle is stonewashed stainless-steel.  It's a Condorlock, which is a new lock invented by Jorge Umaña. It's much like a framelock except there's a tab machined into the frame which makes it both stronger and less particular about your hand placement. It also has a reversible (tip-up or tip-down), right carry pocket clip. It's 3.85" closed, and it weighs 5.64 ounces.
Just like the previous Micarta versions, this is a manual folder with ambidextrous thumb studs. It has a 4.12" 1095 carbon steel drop point blade with a Scandi grind and a blade thickness of 0.12". One of the fantastic things about 1095 is it's easy to sharpen to a razor-sharp edge, and the Scandi grind makes that even easier.
Condor Walnut Krakatoa Details
1095 Carbon Steel, Natural Finish
4.12" Drop Point
0.12" Blade Thickness
Scandi Grind
Manual Folder with Ambidextrous Thumb Studs
Condorlock
Stainless-Steel Frame
Walnut Front Handle Scale
Reversible Pocket Clip
5.64oz.
3.85" Closed
7.97" Overall
Made in El Salvador
The Condor Walnut Krakatoa is beautiful. It's also a solid, sturdy modern folder with a secure lockup and an easily maintained blade. If you're interested in this knife, click any link in the article or simply click the button below.


All images courtesy of Smoky Mountain Knife Works – smkw.com.